Cookie-Einstellungen
Diese Website benutzt Cookies, die für den technischen Betrieb der Website erforderlich sind und stets gesetzt werden. Andere Cookies, die den Komfort bei Benutzung dieser Website erhöhen, der Direktwerbung dienen oder die Interaktion mit anderen Websites und sozialen Netzwerken vereinfachen sollen, werden nur mit Ihrer Zustimmung gesetzt.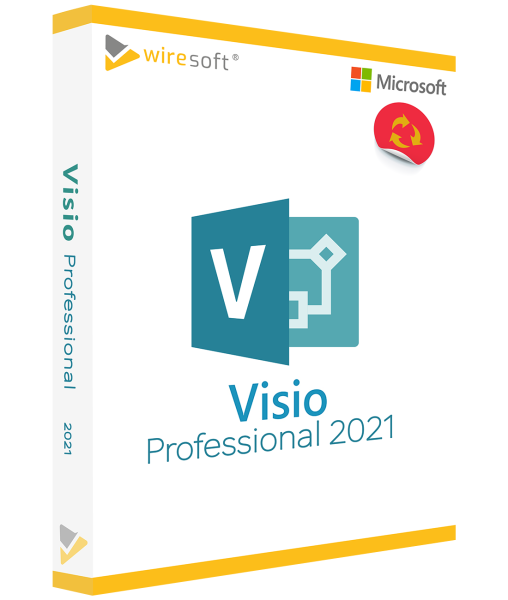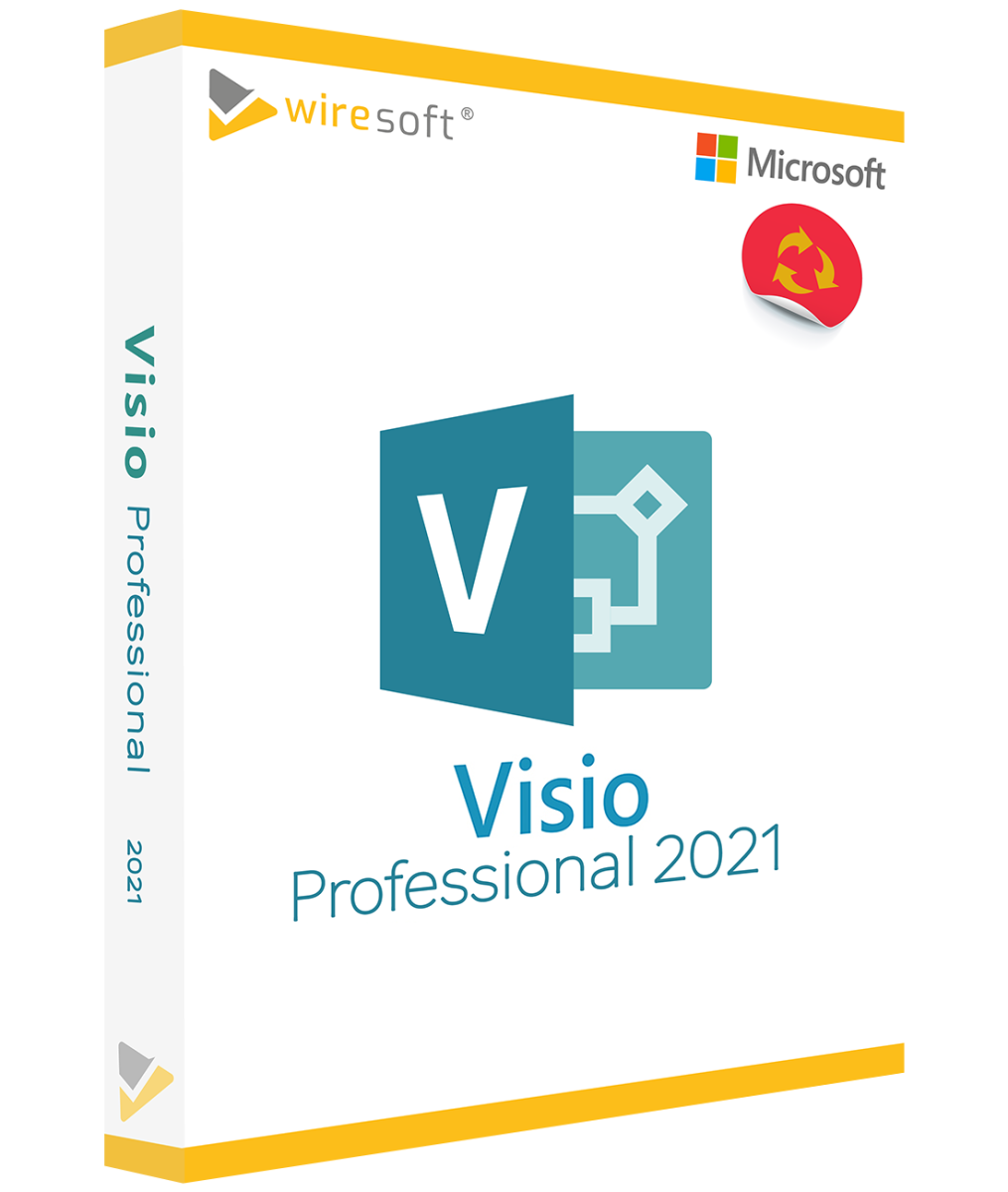 Visio 2021 Professional - the latest version of the versatile Microsoft visualization software...
mehr
Product information "MICROSOFT VISIO 2021 PROFESSIONAL"
Visio 2021 Professional - the latest version of the versatile Microsoft visualization software
Microsoft Visio 2021 is the latest version of the professional software for visualizing a wide range of processes and diagrams - both in business and technical areas, etc.; especially with the new tools and forms included in Visio 2021 Professional, even more complex issues or data sets can be clearly presented than before.
The intuitive desktop interface, which is also familiar from the MS Office programs and has been updated in the new version, makes it particularly easy to get started with Visio 2021: even new users quickly find their way around and can immediately use the tools and features to convert data and ideas for their projects into informative diagrams and presentations. Visio 2021 Professional can also be used on touch-enabled devices - with a digital pen as well as with a finger.
MS Visio 2021 Professional also includes new shapes - to create detailed descriptions of workflows and organizational charts, but can also be used to represent a variety of technical systems and their processes - among other things, UML structure diagrams are also available to model classes and interfaces, as well as DWG files that are easily imported from AutoCAD. When using Microsoft Azure Active Directory or Exchange Server, data can also be imported from Excel directly into the shapes.
It is already known that the prices for MS Visio 2021 editions will be raised as well as for other new Microsoft applications! Wiresoft already offers this Microsoft Visio 2021 Professional Edition as used software in the form of a single license as a purchase version - and at a significantly lower price - just contact our team and find out immediately when it will be available for you to download.
Find out more about all the other Microsoft applications available as used software in the Wiresoft software online shop, which you can also buy at a reduced price, e.g. the programs compatible with Visio 2021 Professional. In the following overview, you will find information about the previously known innovations and optimizations as well as the classic features of the new MS Visio 2021 Professional Edition.
Known so far: These are the innovations in Visio 2021 Professional Edition
The MS Visio 2021 Professional Edition as purchase license will be in the function range approximately the Visio Online Plan 2. The following details were also announced by Microsoft: The desktop view has been modernized, including newly updated tabs in the ribbon. Of course, Visio 2021 Professional also includes updates to shapes, templates, and styles, including improved support for team collaboration: allowing multiple people to work on a single diagram at the same time, which can also be linked to data. Visio Professional 2021 also offers extensive options in managing information rights, for example, to prevent information leaks. Furthermore, Visio 2021 Professional offers:
New templates to help users create Azure diagrams, including for network topologies, virtual machine configuration, and many other operations.
With the new infrastructure shapes on Amazon Web Services (AWS), you can now use corresponding templates for diagrams.
More rich media content, including in a curated library of stock images, icons, and more, can be used for Visio representations.
New shapes for planning workspaces that take into account current guidelines for spatial spacing. New shapes for visualizing crime scenes are also included, as well as wireframe diagrams for mobile apps.
Take advantage of the wide selection of diagrams in MS Visio 2021 or create your own shapes
Visio 2021 Professional offers an extensive collection of Visio diagrams that can be used to represent every conceivable area. To make it easy to find the right diagram, these are clearly arranged according to so-called templates, which then contain the individual shapes. These shapes can be supplemented with text by the user - either by automatic insertion when writing, or by linking to an Excel spreadsheet or an Exchange database: If MS SharePoint or OneDrive Services are used, these can also be imported via them. Many of the integrated shapes are industry standard compliant, i.e. they contain binding information for further use.
Visio 2021 Professional contains over 600 shapes, approximately 400 of which are "intelligent" shapes that automatically adjust the associated meta-data as it is updated. You can also create your own shapes in Visio 2021 Professional and save them as a master shape so that they are available the next time you use them.
Visio 2021 Professional in particular offers users a whole range of additional diagrams that are expected to be exclusive to this edition:
UML diagrams: The UML tools that integrate with Visio 2021 Professional can also be used to create communication, component and deployment diagrams that visualize relationships and components such as those of ports and interfaces. The graphical modeling language UML - Unified Modeling Language - was developed specifically for the visualization and documentation of software components, for example, as well as specifications and designs: UML class diagrams show static views including the relationships between objects of a system, UML component diagrams, on the other hand, are used to illustrate relations of related components as well as the structure of a code. Furthermore, UML deployment diagrams are included to show the configuration of hardware and software elements, and UML sequence diagrams are included to visualize interactions between actors or objects.
Database Notation Diagrams: Also called Entity Relationship Model (ER model or ERM), these can be used to create a graphical model of a database.
Other diagram types in MS Visio 2021 Professional
Visio 2021 Professional again offers many different types of diagrams and features as well as support for additional file types. In addition, the practical start diagrams enable a quicker introduction to the Visio software in the areas of brainstorming, organizational charts and SDL (Specification and Description Language), which are used particularly frequently in the visualization of flow charts, workflows and timelines, including practical tips especially for beginners in their creation.
The shapes contained in Visio 2021 Professional can also be customized with various tools: Gradients and transparencies, shadow, glow, mirror and 3D effects and many other options can be selected.
Visio 2021 also offers optimized support for AutoCAD files, so that DWG or DXF files can also be imported and scaled, including the delay-free shape overlay. AutoCAD objects such as building plans and floor plans can be converted to a Visio Shape and then augmented with additional Visio Shapes.
Overview of diagram types in Visio 2021 Professional Edition
In Visio 2021 Professional, for example, the following frequently used diagram types or shapes are available in many variants:
Flowcharts visualize the individual phases of business processes or even technical procedures, including Swimlane diagrams, cross-functional flowcharts (IDEF0 diagrams and BPMN diagrams), and business process diagrams - these are used in business informatics or process management, among other fields, to explain complex operational processes. Pivot diagrams, timeline diagrams and 3D bar charts are also used to illustrate certain aspects.
Process flow diagrams are used in the technical field to visualize chemical and industrial processes and plants, while
IT diagrams are used, for example, for active directories and databases.
Organigrams, sequence diagrams, activity diagrams and state diagrams clarify structures within organizations as well as those involved in interactions, or also the product life cycle of objects.
Use case diagram s and communication diagrams, on the other hand, visualize interactions and different phases of business projects.
Floor plans and building plans help with space planning in a company to visualize the use of rooms, and IEEE-compliant technical representations are also available for building services.
Wireframe diagrams are used in app development, for example, to clarify the user interface and the individual functions and content.
Hardware requirements for the use of Microsoft Visio 2021 Professional
MS Visio 2021 Professional Edition is expected to be available again in a 32-bit as well as 64-bit version and can only be used in conjunction with Windows 10 or Windows Server 2019. You can find out more details directly from the team at Wiresoft, by email, phone or chat. For more details on the individual minimum requirements, please see the following overview:
Operating Systems: Windows 10, Windows Server 2019
Processor: 1.6 GHz, dual core
RAM: 4 GB RAM (64-bit) or 2 GB RAM (32-bit)
Hard disk space: 4.0 GB
Display/screen resolution: 1,280 x 768
Graphics: DirectX 10 graphics card to accelerate graphics hardware
Expected to require an account from Microsoft OneDrive, OneDrive for Business or SharePoint to use features for cloud-based use of Visio files
buyMicrosoft Visio 2021 Professional as used software in the Wiresoft software shop
The current MS Visio 2021 Professional Edition is already offered in the Wiresoft software shop as a used single license - and is available after the official release date. As used software, the price is lower than that of corresponding new software of this edition. Profit with Wiresoft with the purchase of used software to Microsoft Visio 2021 Professional thereby from these advantages:
With the purchase of MS Visio 2021 Professional you receive a single license at Wiresoft, which was previously purchased and resold by a European company. By reselling, the offered license of MS Visio 2021 Professional is marked as used, without "used" implying any restrictions in the functionality of this software or saying that this license has actually already been used.
This MS Visio 2021 Professional as well as other used Microsoft licenses offered for sale by Wiresoft are neither limited usable or time-limited test versions, nor do they contain an already activated license key, but a software product authorized after your purchase only for yourself.
If an initial purchaser installed and activated this Microsoft Visio 2021 Professional software, this was deleted again with the sale to Wiresoft, so that the software license in question is 100% freely available again.
The legal basis for the resale of the used Microsoft Visio 2021 Professional software is the applicable law, which permits the sale and purchase as well as the use of this software.
All such used licenses purchased from Wiresoft and offered for resale have also been tested by us for full usability prior to sale.
Immediately after the successfully completed purchase, your MS Visio 2021 Professional application is available to you via Electronic Software Delivery (ESD).
Thus, when purchasing a license with Wiresoft, you can be sure that you are purchasing and using a legal and original Microsoft product of the Professional Edition of Visio 2021.
If you have any further questions regarding your used license purchase of Microsoft Visio 2021 Professional as used software or any other edition of MS Visio 2021 as well as older MS Visio versions or other Microsoft software, please feel free to contact us by e-mail, phone or chat.
Bewertungen lesen, schreiben und diskutieren...
mehr
Customer evaluation for "MICROSOFT VISIO 2021 PROFESSIONAL"
Write an evaluation
Evaluations will be activated after verification.