Cookie-Einstellungen
Diese Website benutzt Cookies, die für den technischen Betrieb der Website erforderlich sind und stets gesetzt werden. Andere Cookies, die den Komfort bei Benutzung dieser Website erhöhen, der Direktwerbung dienen oder die Interaktion mit anderen Websites und sozialen Netzwerken vereinfachen sollen, werden nur mit Ihrer Zustimmung gesetzt.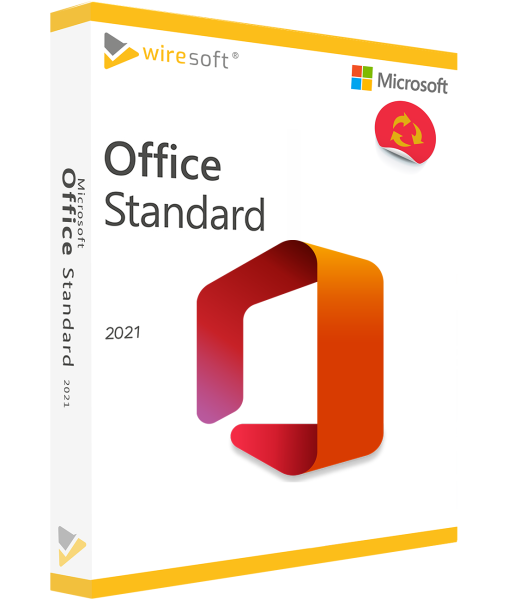 MICROSOFT OFFICE 2021 STANDARD

Prices incl. HST
Available as instant download
---
Are you a business customer or do you have legal questions?
I am here for you.
---
Kadir Aydin
Microsoft Licensing Professional (MLP)
Order number:

SW10444

Benefits

- Fast delivery
- Authorised original product
- Shipment within 24 hours
- Chat, e-mail and telephone support

Microsoft Office 2021 Standard - the indispensable business software for companies and...
mehr
Product information "MICROSOFT OFFICE 2021 STANDARD"
Microsoft Office 2021 Standard - the indispensable business software for companies and self-employed persons
The latest version of the Microsoft Office suite 2021 Standard Edition offers professional users in companies as well as self-employed people an even further improved standard of functionality and efficiency - both for the creation and editing of documents, as well as for comprehensive communication and the secure collaboration and exchange of data and documents. Office 2021 also takes collaboration in the cloud - and in the home office - to a new level. To this end, the new MS Office 2021 Standard provides comprehensive security standards that also take into account the current data protection regulations.
As always, numerous improvements and additions to the proven programs Word, Excel, PowerPoint and Outlook are part of this new release of MS Office: among other things, comprehensive options for the joint editing of documents in real time facilitate secure work and the protected exchange of information in the team as well as barrier-free working. MS Office 2021 Standard is supplemented by the digital notebook OneNote and Microsoft Teams, which replaces Skype. All Office programs can also be used as Office Web Apps.
Furthermore, the proven security feature Data Loss Prevention in MS Office 2021 Standard protects against data loss through comprehensive security provisions and individual access rights, and the edition also complies with strict data protection regulations:
In addition, the current Standard Edition 2019 includes a number of practical optimizations for professional and efficient as well as the exchange of documents for collaborative work, especially in the cloud.
You can already find the Microsoft Office 2021 Standard Edition in the Wiresoft Software Shop as used software - at a lower price compared to corresponding new software - it is best to contact our team immediately and find out when this Office version will be officially available to you, as well as other editions of MS Office 2021. The following overview presents all included Office applications and thereby informs you about all already known innovations of this edition, which are available to you with Office 2021 Standard.
Proven Office applications even more powerful in MS Office Standard 2021
Also in the standard edition of the new MS Office 2021 the single applications Word, Excel, PowerPoint as well as Outlook form the backbone, supplemented by OneNote and Microsoft Teams. For the Microsoft Office 2021 Standard Edition, these have been optimized and additional functions have been added to make cross-application collaboration even more efficient:
Microsoft Word 2021 is still the indispensable program for text creation, the current version also supports the work on documents, for example, by an integrated translation tool, an optimized dictation function and an improved spelling correction including grammar correction. Using the speech output tool, you can have texts read to you while you write; conversely, the speech input function has also been further improved. The revised editor makes it easier to accept writing and spelling suggestions directly with a click. The recognition of virtual ink has also been improved, so that a text written with a digital pen on a display is converted even better into a Word text. Individual improvements have been made to SVG graphics, for example: more complex image documents can now be integrated, scaled and edited without taking up a lot of memory. Also so-called HEIC images can be inserted directly from iPhones or iPads without conversion.
Microsoft Excel now offers dynamic arrays and an improved XVERWEIS function for professional analysis and editing of data in addition to new functions and filters such as the timeline filters in Office version 2021. The table functions for financial calculations have also been optimised; the great compatibility with CSV files has also been retained. Further details on the features available in Excel in MS Office 2021 Standard Edition are not yet known, please contact the Wiresoft team if you have any questions.
As usual,Microsoft PowerPoint 2021 offers a wide range of design options with a variety of exciting effects such as morphing graphics and images as well as other image editing options. Ultra HD files can also be inserted directly into presentations with PowerPoint; graphics can be freely scaled and zoomed into an image using the zoom function; animations can also be performed using a digital pen. The sharing options now also include the speaker view of a PowerPoint file and with Microsoft Forms a direct survey can be started among the participants of a meeting.
Microsoft Outlook 2021 supports global communication with business partners and remote workers, including automatic consideration of different time zones as well as time differences when scheduling appointments. The new Outlook 2021 also supports the creation and management of any number of e-mail accounts per user, which is particularly advantageous for users who need multiple accounts. With in Microsoft Teams, messages in Outlook can be shared directly with other colleagues and partners; last but not least, Outlook 2021 includes a new dictation toolbar that makes composing e-mails easier with enhanced voice commands as well as automatic punctuation.
Publisher 2021 includes many options for creating interesting print-ready presentations and publications, including improved pen recognition and professional graphics editing.
OneNote and Microsoft Teams complement MS Office Standard 2021 Edition: the handy digital notebook can be connected to other programs, while Microsoft Teams now replaces Skype.
Take advantage of many other benefits of Microsoft Office 2021 Standard
MS Office 2021 Standard Edition not only offers many optimizations and new functions in the individual programs, but also scores with a whole series of general practical features and advantages that support mobile working and facilitate intuitive team collaboration on documents, spreadsheets or presentations as well as communication between employees.
Users can also access many Office features on the move via smartphone or tablet: the Web Apps available in Office 2021 make access even easier, so that the individual functions and elements for quickly editing documents on the move can be found even faster. Files can also be opened and shared with other users' devices in the cloud.
The desktop interface of Office 2021 impresses with its clear layout, many applications can also be used in dark mode, which supports eye-friendly work. In addition, the new drop-down menu in the search area makes it even easier to search for e-mails and documents - users simply click to switch between the respective mailbox and an open folder. Via the history menu in the desktop client, it is also possible to return directly to the most recently visited locations. There is also a new option to mask phone numbers, which can create more privacy and anonymity.
Also in Office 2021, Group Policy Object (GPO) is expected to be available for managing group policies that are secured using ADMX files. Besides controlling updates, these also include security settings to control macros in external documents. In addition, the Office 2021 edition can also be used on a terminal or remote desktop server, the license will most likely again include a secondary usage right for a mobile computer of a defined user.
Last but not least, all Office 2021 programs also support accessibility, among other things by using international standards as well as with practical suggestions for the layout of documents, which can also be supplemented by audio cues. The "Ease of use" section offers various options here, such as a wide selection of tones in "Provide feedback with sound".
Data Loss Prevention available in Office 2021 Standard - to protect against loss and unauthorized disclosure of critical data
The Microsoft Data Loss Prevention (DLP) tool, which has been tried and tested for many Office editions, is also used in MS Office 2021 Standard to reliably protect confidential information or data from intentional or accidental disclosure by employees. In this way, organizations or companies in particular ensure that personal information is protected against unauthorized access, as required by the DSVGO, for example. All data movements, such as transfers by e-mail or via Internet-based applications, are not only monitored by means of dynamic content-based control, but also blocked in the event of a breach of regulations.
System administrators can create individual, differentiated rules for access to specific data, depending on the user or group, in order to either only restrict or completely block their access or transfer, while users can also be alerted to potential risks in the event of an impending data loss.
In the new MS Office 2021, admins can more easily define for individual programs what information may be included in a document at all. In addition, when using cloud services such as Microsoft OneDrive, important data will not be lost even in the event of a server failure or malfunction of an end device; users can also access and edit these files from anywhere.
System requirements for Microsoft Office 2021 Standard
The following system requirements also apply as used software for MS Office 2021 Standard Edition, in addition, depending on the use of other apps or programs, there may be further requirements Prerequisite for storage space, etc.
Operating Systems: Windows 10, Windows 11, Windows Server 2019/2022
Processor: 1 GHz (32- or 64-bit)
Working memory: at least 2 GB RAM
Hard disk space: at least 3 GB
Image resolution: at least 1,280 x 800 pixels
Graphics card: DirectX 10
Which Windows versions are compatible with the MS Office 2021 Standard software?
As already listed in the system requirements, all editions of Microsoft Office 2021 require at least Windows 10 as the operating system for proper operation. So, Microsoft Office 2021 Standard is not compatible with Windows 8, 7 or older versions. If you have any questions, just contact Wiresoft team.
How is Microsoft Office 2021 Standard licensed?
This Standard Edition of Microsoft Office 2021 is licensed as usual for a specific single endpoint device. Depending on the currently valid Microsoft regulations, you have the right to install any number of copies of this Office version as well as the previous versions on this computer, including their deployment on a network server, in order to use them remotely or via Virtual Desktop Infrastructure (VDI) via the licensed device. For more details, please contact a Wiresoft representative.
Buy Microsoft Office 2021 Standard used in the Wiresoft Software Shop
The new Microsoft Office 2021 Standard Edition is already available as a used single license now at Wiresoft - thus the price is lower than the price of the current new product. In addition, when you buy used Office 2021 Standard software from Wiresoft, you always benefit from the following advantages:
After the completed purchase, your MS Office 2021 Standard software is immediately available to you via Electronic Software Download (ESD).
This MS Office 2021 Standard license, as well as all other used licenses offered for sale by Wiresoft, is neither a limited test version nor does it come with an already activated license key. Instead, you are purchasing a Microsoft software product in our software shop that is authorized only for you.
You therefore receive a single license of MS Office 2021 Standard, which was usually first purchased and resold by a European company. This resale marks this license of MS Office 2021 Standard software as used, without "used" implying any restrictions on the functionality of the software or meaning that it has actually been used.
If an initial purchaser already had this MS Office software installed on a computer, it was deleted again prior to the sale to Wiresoft, so this software license is once again 100% free and unrestricted.
All corresponding used MS Office Standard 2021 licenses purchased from Wiresoft were also checked by us for full usability before sale.
The legal basis for the resale of used Microsoft software such as Office Standard 2021 is the applicable law, which expressly permits the sale and purchase as well as the use of this software.
Therefore you can be sure that you buy a legal and original Microsoft product from Wiresoft.
If you have any questions regarding your license purchase of Microsoft Office Standard 2021 or any other Office 2021 edition as used software as well as older Office versions or other Microsoft software, please feel free to contact us by e-mail, phone or chat.
Bewertungen lesen, schreiben und diskutieren...
mehr
Customer evaluation for "MICROSOFT OFFICE 2021 STANDARD"
Write an evaluation
Evaluations will be activated after verification.