Cookie-Einstellungen
Diese Website benutzt Cookies, die für den technischen Betrieb der Website erforderlich sind und stets gesetzt werden. Andere Cookies, die den Komfort bei Benutzung dieser Website erhöhen, der Direktwerbung dienen oder die Interaktion mit anderen Websites und sozialen Netzwerken vereinfachen sollen, werden nur mit Ihrer Zustimmung gesetzt.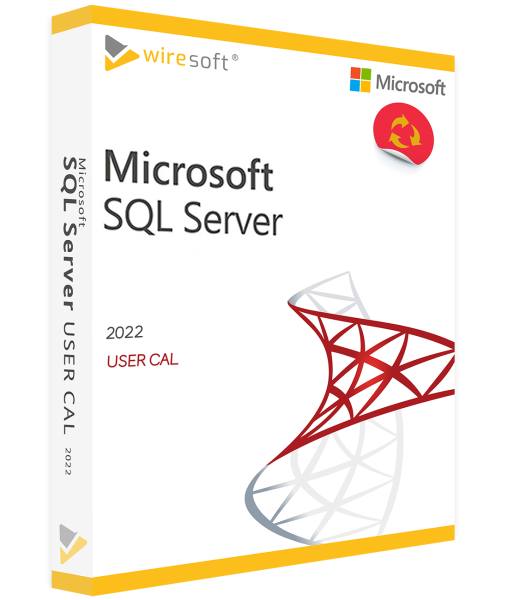 MICROSOFT SQL SERVER 2022 USER CAL

Prices incl. HST
Ready for immediate dispatch, delivery time 24h
---
Are you a business customer or do you have legal questions?
I am here for you.
---
Kadir Aydin
Microsoft Licensing Professional (MLP)
Order number:

SW10480

Benefits

- Fast delivery
- Authorised original product
- Shipment within 24 hours
- Chat, e-mail and telephone support

Microsoft SQL Server 2022 User CAL To access the new version of SQL Server 2022, users of...
mehr
Product information "MICROSOFT SQL SERVER 2022 USER CAL"
Microsoft SQL Server 2022 User CAL
To access the new version of SQL Server 2022, users of certain editions or licensing forms require a Client Access License, e.g. in the form of a User CAL. Only with such a license are the functions and services of this reliable relational data platform from Microsoft available to them: with many analysis and reporting functions as well as other database functions, as required by companies for the comprehensive use of data and its provision for various applications - also in the cloud. To this end, SQL Server 2022 provides not only comprehensive communication interfaces, but also strong performance through the use of Big Data clusters, as well as comprehensive security and protection measures to ensure the integrity of data.
Since the SQL Server license of version 2022 will probably again only license the SQL Server as such, but will not entitle users to access the server services, users will need an additional client access license (User CAL) for this purpose. Only this grants the necessary access rights to a specific individual user. With the User CAL it does not matter whether the licensed user uses a desktop PC, a notebook, a tablet or his smartphone for access. The use of a User CAL therefore entitles him to alternately use different end devices to access SQL Server 2022. In addition, with an older User CAL that applies to an earlier version of SQL Server, he will no longer be able to access the current SQL Server version 2022.
Used User CALs for SQL Server 2022 are already available for pre-order at Wiresoft! After the official release date for the new SQL Server, they will be available immediately. When buying used software from Wiresoft, you not only benefit from the lower price compared to the new SQL Client Access Licenses for Users offered in the software trade, but also from the possibility to buy only the number of User CALs you actually need for your access to SQL 2022 Server instead of a sliding scale!
Get all the benefits of SQL Server 2022 with a current User CAL
SQL Server 2022 is currently the latest release of Microsoft's Relational Database Management System, providing companies with a comprehensive portfolio of functions for analyzing data from various sources and making it available for use in CRM or enterprise resource planning systems, etc., including reporting functions for documenting evaluations. SQL Server 2022 is a cloud-capable database management system for all these business areas, which can also be flexibly adapted to the respective requirements and is also scalable.
Using Big Data Clusters in SQL Server 2022
Depending on the edition of SQL Server 2022, various functions are available, including machine learning tools for processing targeted database queries, which are used for systematic collection and monitoring. With the option of clustering data, users take advantage of accelerated queries of large amounts of data - among others with Intelligent Query Processing, PolyBase as well as for the optimized processing of data from external data sources with Transact-SQL - including their provision for various, also cloud-based applications:
With the "Big Data Cluster" feature for the comprehensive management of particularly large data volumes, users with a User CAL thus once again have a group of powerful analysis tools at their disposal in SQL Server Version 2022. With these, on the one hand, Big Data workloads can also be moved into the SQL Server, and on the other hand, external databases can also be queried directly.
Big Data clusters also enable the deployment of scalable clusters of SQL Server, HDFS as well as Spark containers via Kubernetes.
AI and machine learning tasks can also be performed in HDFS storage pools.
In addition to the integrated AI tools, Spark, R, Python and Java are also available for this purpose.
Data Lake allows data from various external sources to be analyzed, combined with relational data, and stored.
Transact-SQL provides parallel execution of tasks such as querying, writing, and processing data.
Data Mart improves the performance of data analytics by scaling Big Data clusters horizontally.
Applications can be designed as a container as well as an app for web services, these access the data stored in a Big-Data cluster.
For the latest information on all services available with a User Client Access license in SQL Server 2022, please contact one of our Wiresoft representatives.
Licensing SQL Server 2022 with User CALs for used software
Even as used software, the User CAL for SQL Server 2022 provides the same access to SQL Server as a new client access license. Companies with a large licensing requirement can therefore reduce costs with Used Software just as much as smaller companies with a smaller budget, and they can also calculate their licensing requirements with Wiresoft on a tailor-made basis.
What are the advantages of User CALs for SQL Server 2022?
The User CAL offers the identical access rights to use the SQL Server 2022 services - which differ depending on the functional scope of the editions - as a Device User CAL.
The user-specific client access license (User CAL) merely offers different options for accessing the SQL Server: An employee licensed with the User CAL can thus use any Windows-capable end device in a company for server access, The User CAL then offers greater scope of application if the user alternately uses different end devices - e.g. those located at different sites. This means that it can also be used locally independently - e.g. in the home office or on the road - for SQL server access.
What should generally be considered when licensing SQL Server 2022 with User CALs?
For certain editions of SQL Server 2022, Microsoft License Management offers client access licensing, e.g. of users via User CAL, in addition to core-based licensing. The condition is that the User CAL and the SQL Server license either have the same version or the CAL authorizes access to a higher version. The User CAL 2022 only contains access rights for the client/server environment of SQL Server 2022 - so no software has to be installed.
Microsoft's licensing model is again expected to offer two types of CALs for SQL Server 2022:
User CAL for SQL Server 2022: this gives personal access rights to a dedicated user
Device CAL for SQL Server 2022: a dedicated Windows-enabled device (e.g. PC, laptop, tablet, smartphone) is granted access rights
What provisions need to be considered when licensing SQL Server 2022 with User CALs?
As previously mentioned, the User CAL provides a specific user with access rights to SQL Server 2022, with used CALs containing identical rights to new client access licenses. The User CAL cannot be transferred to another user once the registration of a specific employee has been completed. It is also impossible to change the CAL type and, for example, use the User CAL to register a terminal device (Device CAL). However, the parallel use of User CALs and Device CALs for SQL Server 2022 is permitted.
With these provisions, Microsoft CAL license management helps to prevent improper access to a SQL Server 2022 and to increase the security of the data on it.
Version Compatibility for User CALs for SQL Server 2022
A User CAL for SQL Server 2022 currently provides the latest client access license from Microsoft. This also provides access rights for older versions of SQL Server will and therefore the benefit of a downgrade. If you are planning to upgrade to the latest version of SQL Server, you will need an appropriate Client Access License, as you will not be able to access SQL Server 2022 (upgrade) with a User CAL that was valid for one of the previous versions of SQL Server.
Advantages of CAL-based licensing of SQL Server 2022
While core-based licensing makes sense for larger server configurations or certain SQL Server editions can only be licensed through it, CAL-based licensing is more advantageous for companies with a limited number of users, for example, and is the financially more favorable alternative. When purchasing used user access licenses from Wiresoft, the otherwise prescribed, rigid licensing scale does not apply and you can therefore purchase exactly the number of user CALs that you actually need, while also having the option of adjusting your licensing needs and purchasing additional individual user CALs.
User CAL for Microsoft SQL Server 2022 as used software from Wiresoft
At Wiresoft you can buy User CALs for SQL Server 2022 as used software starting with a single client access license - presumably as soon as Microsoft officially releases them for sale. You will not only benefit from the lower price of used software compared to new client access licenses - but also from other advantages:
When purchasing a User CAL to SQL Server 2022 as used software from Wiresoft, our customers acquire an original Microsoft Client Access License for users that was previously purchased by a company and then sold to Wiresoft.
The legal basis for trading Microsoft used software, such as User CALs for SQL Server 2022, is the applicable law, which permits both sale and purchase and use.
If such a User CAL was once activated by the previous buyer, it was deleted again prior to the sale to Wiresoft, so that it is 100% free to use again.
For resale purposes, such User CAL to SQL Server 2022 will be marked by Wiresoft as used, but "used" does not imply any restrictions on the functionality of this User License.
Microsoft Client Access Licenses as well as other licenses offered for sale by Wiresoft as used are neither limited-use nor time-limited licenses, they are a fully usable software product authorized only for you after your purchase, which has been tested for full usability by Wiresoft prior to sale.
When purchasing used User CALs for SQL Server 2022 with Wiresoft, you can be sure that you are always purchasing and using an original and legal Microsoft product.
If you have any further questions about buying Client Access Licenses for Microsoft SQL Server 2022 as used software or any other Microsoft software, please feel free to contact us by email, phone or chat.
Bewertungen lesen, schreiben und diskutieren...
mehr
Customer evaluation for "MICROSOFT SQL SERVER 2022 USER CAL"
Write an evaluation
Evaluations will be activated after verification.