Cookie-Einstellungen
Diese Website benutzt Cookies, die für den technischen Betrieb der Website erforderlich sind und stets gesetzt werden. Andere Cookies, die den Komfort bei Benutzung dieser Website erhöhen, der Direktwerbung dienen oder die Interaktion mit anderen Websites und sozialen Netzwerken vereinfachen sollen, werden nur mit Ihrer Zustimmung gesetzt.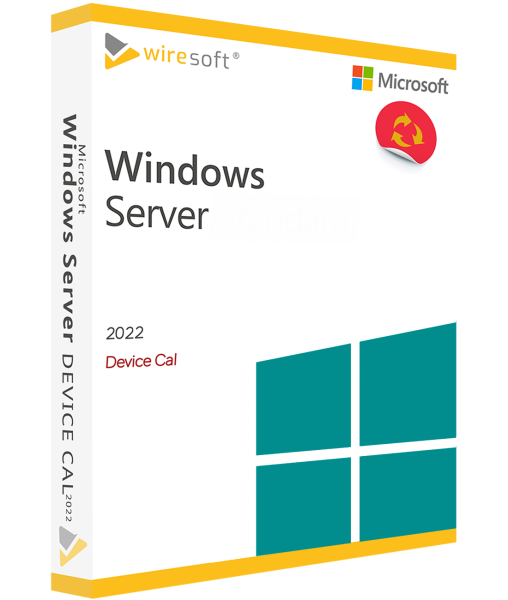 MICROSOFT WINDOWS SERVER 2022 DEVICE CAL

Prices incl. HST
Ready for immediate dispatch, delivery time 24h
---
Are you a business customer or do you have legal questions?
I am here for you.
---
Kadir Aydin
Microsoft Licensing Professional (MLP)
Order number:

SW10456

Benefits

- Fast delivery
- Authorised original product
- Shipment within 24 hours
- Chat, e-mail and telephone support

Microsoft Windows Server 2022 Device CAL For each end device with which users access the...
mehr
Product information "MICROSOFT WINDOWS SERVER 2022 DEVICE CAL"
Microsoft Windows Server 2022 Device CAL
For each end device with which users access the server services of Microsoft Windows Server 2022 in the Standard or Datacenter Edition, an additional client access license (Device CAL) is required, which is not included in the server license. Only this gives a user of the Windows-capable end device equipped with it the corresponding access rights. It does not matter whether the Device CAL is used to license a desktop PC, notebook, smartphone or tablet with Windows operating system. Thus, the buyer of a Device CAL is free to decide with which licensed end device he wants to access Windows Server 2022.
You can already find used Device CALs for Windows Server 2022 at Wiresoft! Benefit from the lower price compared to the new client access licenses for end devices offered in the software trade, as well as from the possibility to determine the exact number of CALs you need for your Windows Server software!
Use Windows Server 2022 without restrictions with used Device CALs
The new Microsoft Windows Server 2022 version is based on the Windows 10 operating system - it already contains many new functions in the standard as well as in the extended Datacenter Edition, which offers even more security especially for complex networks, as well as further options to share data, applications and services with others. Depending on the Windows Server 2022 edition, users with a Device CAL can also take advantage of the many options and performance enhancements in hybrid scenarios, regarding virtualization and especially the use of Windows containers.
Network security with Windows Server 2022
Security is still the most important topic when creating and managing networks. Users have many new features available in Windows Server version 2022 with a Device CAL, such as the latest version of Transport Layer Security - TLS 1.3 - , TPM 2.0 (Trusted Platform Module), code integrity according to VBS (virtualization-based security) as well as HVCI (hypervisor-based security),
as well as the standards AES-128 and AES-256 for the encryption of RDMA networks via SMB (Server Message Block), Virtual OSE (Operating System Environment), to name just a few important functions.
Depending on the edition, you can also use features such as Hyper-V, Software-Defined Networking (SDN), Storage Spaces Direct (SSD) as well as Storage Replica and Shielded Virtual Machines (SVM) with a Device CAL to create highly secure virtualization infrastructures.
Leverage Device CAL to manage container platforms in Windows Server 2022
Users will also have improved features at their fingertips when using Windows Containers, both in terms of application compatibility and the Windows Container user interface with Kubernetes, which means even further performance improvements and broader support here specifically. Container creation in .NET applications has also been improved.
Storage and migration services in Windows Server 2022
As far as the possibilities for migrating data and services are concerned, the Device CAL in Windows Server 2022 offers further additions and improvements in Storage Migration Services, such as migrating local users and groups, as well as storage, stand-alone servers and failover clusters, as well as the storage of Linux servers.
With a CAL for a Windows-enabled endpoint, you can also take advantage of many individual performance enhancements in Windows Server 2022, such as support for Nested Virtualization through AMD processors, standard use of Microsoft Edge, as well as improvements in Transmission Control Protocol (TCP), Recent ACKnowledgment (RACK), and Receive Segment Coalescing (RSC).
For more details, please contact a Wiresoft representative.
Information about licensing with Device CALs for Windows Server 2022 as Used Software
Basically, Used Software offers the same range of access options with a Device CAL for Windows Server 2022 in order to be able to use all functions available in the respective edition. Another advantage of buying Used Device CALs is the possibility to decide yourself how many client access licenses you want to buy. I.e. the restriction by the otherwise usual staggering at Microsoft with Device CALs is void. This saves especially self-employed persons as well as smaller companies money when purchasing software, because with Wiresoft they can calculate their licensing needs tailor-made.
How is the licensing of Windows Server 2022 with Device CALs done?
For access to one of the Windows Server 2022 editions - Standard or Datacenter - Microsoft license management optionally provides for licensing of each individual end device with its own client access license. As with earlier server versions, this Device CAL must correspond to the identical Windows Server version in order to be allowed to use its functions on a Windows-enabled end device. The Device CAL in question therefore only contains the access rights for the client/server environment of Windows Server 2022 - and no software that needs to be installed further.
The Microsoft licensing model offers two types of CALs for Windows Server 2022:
Device CAL for Windows Server 2022: this gives a dedicated end device (PC, laptop, tablet, phone) server access rights
User CAL for Windows Server 2022: this grants server access rights to a dedicated user
It is also possible to use user CALs and device CALs in parallel.
What are the benefits of CAL-based licensing for Windows Server 2022?
The CAL-based licensing of Windows Server 2022 primarily allows a flexible and therefore demand-oriented rights management for all used end devices compared to a core-based licensing. Especially with the used device access licenses from Wiresoft, there is no prescribed, rigid licensing scale - you buy exactly the number of device CALs you actually need and can also purchase additional individual CALs at any time.
Use version compatibility with Device CALs for Windows Server 2022!
The Device CAL for Windows Server 2022 is currently the latest client access license offered by Microsoft. This not only equips an end device with the access rights for Windows Server 2022, but also includes the access option to older versions such as 2019 (downgrade). This gives the current Device CAL for Windows Server 2022 a decisive advantage over older Device CAL versions, which at most only apply to the relevant Windows Server previous version, but not to this Windows Server version 2022 (upgrade).
What has to be considered when licensing Windows Server 2022 with a Device CAL?
As already mentioned above, with a Device CAL only one end device (Single Device) receives the access rights for Windows Server 2022, regardless of whether it is used software or new software.
As soon as the registration of the end device with the Device CAL is completed, this license cannot be transferred to another computer, laptop, etc.. It is also not possible to change the CAL type, i.e. to use the Device CAL as User CAL. However, parallel use of Device CALs and Device CALs for Windows Server 2022 is possible.
These provisions of Microsoft CAL license management also help, among other things, to prevent improper access to a Windows Server 2022. Thus, Device CALs provide more security to a company and its data, as improperly licensed endpoints will not have access.
What are the benefits of a Device CAL for Windows Server 2022?
In terms of the features available when using Windows Server 2022 services, the Device CAL is no different than the User CAL. However, the device-specific client access license provides other benefits through the different ways of accessing the Windows Server: A Windows-enabled endpoint licensed with the Device CAL can be used by any authorized employee in an organization to access the server. And if the licensed device can also be used as a mobile device, such as a laptop or tablet, the respective user can access the Windows Server locally and independently - e.g. in the home office or on the road. The Device CAL therefore offers a great advantage if the licensed end device is used alternately by several employees.
Purchaser security with used Device CALs for Microsoft Windows Server 2022 from Wiresoft
Device CALs for Windows Server 2022 as used software are available in the Wiresoft Online Shop starting at one single client access license. Benefit here from the lower price of used software compared to comparable new CALs - and also from your buyer security as well as from these advantages:
With the purchase of used Device CALs, Wiresoft customers receive an original single license that was previously purchased by a company and subsequently sold to Wiresoft.
The legal basis for trading in used client access licenses to Microsoft Windows Server 2022 is the applicable law, which permits their sale as well as their purchase and use.
If the Device CAL has already been activated by a previous owner, the license in question has been deleted again prior to the sale to Wiresoft, so that it is 100% free to use again.
For resale purposes, this Device CAL to Windows Server 2022 is marked as used, but "used" does not imply any restrictions on the functionality of this license.
Also, this client access license as well as other used Microsoft licenses offered for sale by Wiresoft are neither limited usable nor time-limited licenses, but it is a software product authorized after your purchase only for yourself, which was tested by Wiresoft before the sale for its full usability.
Bewertungen lesen, schreiben und diskutieren...
mehr
Customer evaluation for "MICROSOFT WINDOWS SERVER 2022 DEVICE CAL"
Write an evaluation
Evaluations will be activated after verification.