Cookie-Einstellungen
Diese Website benutzt Cookies, die für den technischen Betrieb der Website erforderlich sind und stets gesetzt werden. Andere Cookies, die den Komfort bei Benutzung dieser Website erhöhen, der Direktwerbung dienen oder die Interaktion mit anderen Websites und sozialen Netzwerken vereinfachen sollen, werden nur mit Ihrer Zustimmung gesetzt.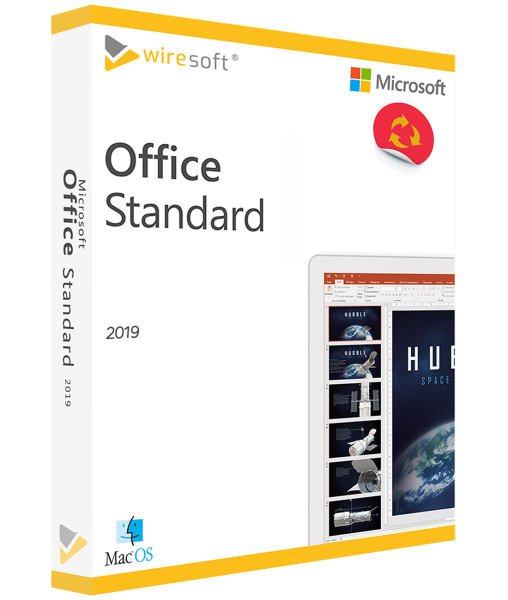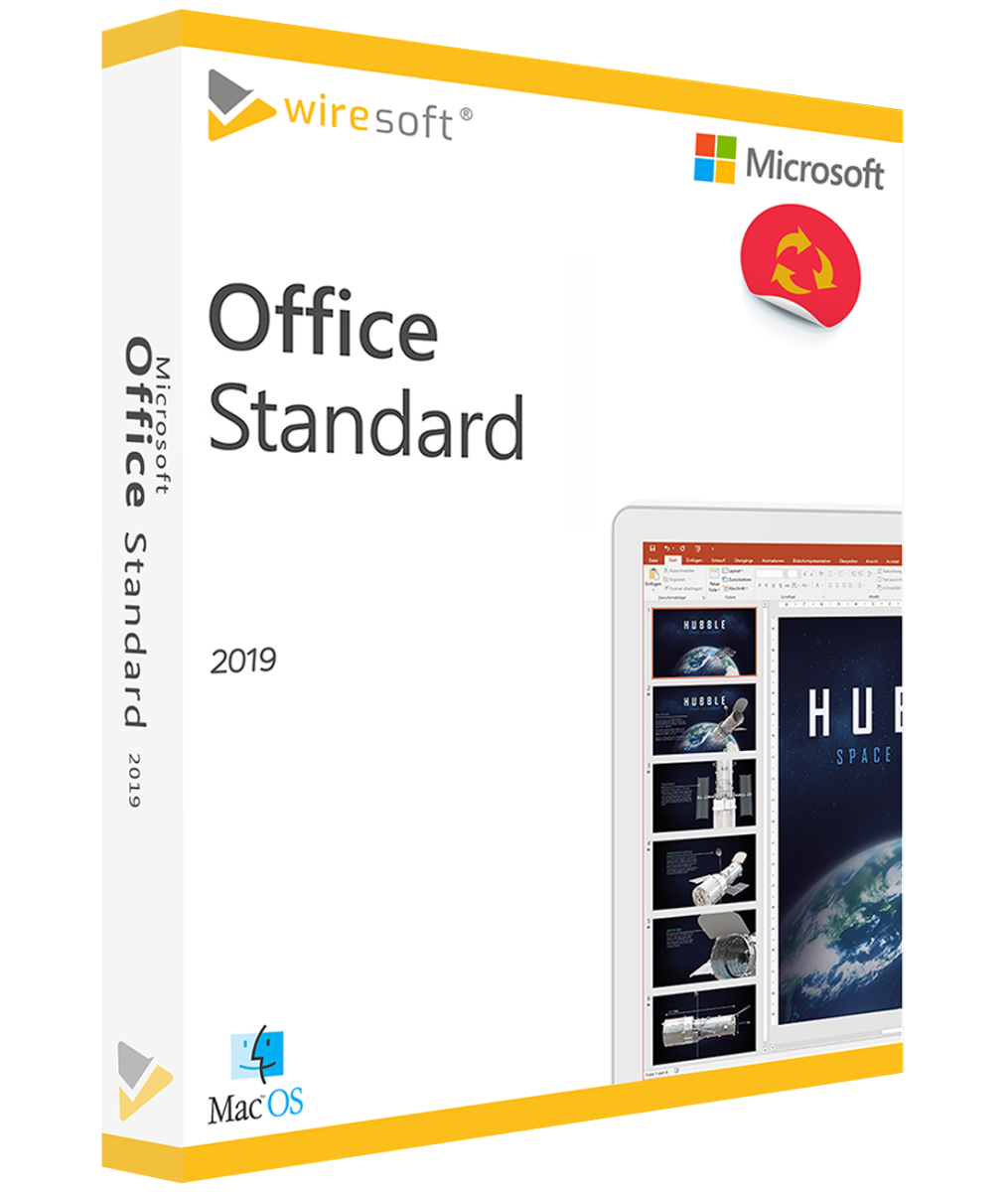 MICROSOFT OFFICE MAC 2019 STANDARD

Prices incl. HST
Available as instant download
---
Are you a business customer or do you have legal questions?
I am here for you.
---
Kadir Aydin
Microsoft Licensing Professional (MLP)
Order number:

SW10015

Manufacturer No:

021-10609

Benefits

- Fast delivery
- Authorised original product
- Shipment within 24 hours
- Chat, e-mail and telephone support

Microsoft Office Mac 2019 Standard - the proven software for business users Office 2019 for...
mehr
Product information "MICROSOFT OFFICE MAC 2019 STANDARD"
Microsoft Office Mac 2019 Standard - the proven software for business users
Office 2019 for macOs is the latest version of the proven Microsoft software for productive work - with the powerful, versatile programs for the creation and design of texts, complex calculations and vivid presentation and their secure communication, both internally with employees and externally with business partners.
To this end, the Standard Edition of Office 2019 for Mac provides a broad portfolio of user-friendly functions and features to efficiently perform all typical tasks in everyday office life.
Use the extensive tools in Word for professional text creation, create meaningful tables with Excel and use PowerPoint with its many options for illustrating and presenting your results.
In Office for Mac, you can also use the handy Freehand feature in these three applications. This allows you to insert diagrams and formulas directly into a document using either your tablet pen or your mouse or finger.
The optimized accessibility check - available in Word, Excel, PowerPoint and OneNote - makes documents easier to understand for everyone involved by providing practical suggestions, thus improving collaboration. And with your personal digital notebook, OneNote, you'll capture your ideas instantly for use directly in the appropriate programs.
And with Outlook, you can manage your daily email more efficiently for faster and better communication with your business partners and colleagues.
Proven features such as Data Loss Prevention protect against the loss of important data, complemented by comprehensive security policies that allow you to assign individual access rights to documents, as well as comply with current EU data protection regulations.
With the purchase of the Office package of the current standard edition 2019 for Mac, you thus get everything you need for professional, collaborative work on documents as well as their exchange - especially in the cloud - from a single source. All included Office applications are also available as Office Web Apps for mobile use via iPhone.
The Office Mac 2019 Standard Edition is only available from standard providers as part of a volume license agreement - in the Wiresoft Software Shop, you can also buy it as a particularly affordable single license! The following detailed overview describes all the benefits you get when you purchase Microsoft Office Mac 2019 Standard.
Even more comprehensive user-friendliness in Office Mac 2019 Standard
The 2019 Office suite for macOS impresses in the Standard edition not only with the new program features, but also by optimizing the previous familiar features that contribute to an even greater user-friendliness. Accessibility is a top priority in Office 2019 for Mac - both for the user himself and for addressees or collaborators of documents.
As a user of Office Standard 2019 for Mac, you yourself will benefit from the additional options available to you in the Ease of Use section, for example: These include options for audio cues, with a wide selection of tones under "Provide feedback with sound". To this end, Word in Office Mac 2019 provides more subtle backgrounds in the form of Dark Grey and Black themes, which allow you to work in an even more focused manner, as well as a Text-to-Speech feature to have content read aloud to you as you work or on the go.
As already mentioned, the freehand tool provides you with a whole range of options for Word, Excel and PowerPoint to insert your drawings and sketches freehand and in addition in multiple colors including various effects directly into a document - depending on the end device with a pen (tablet), finger (touchscreen) or even with the mouse (desktop PC). This allows you to create meaningful diagrams and formulas that perfectly express your own ideas.
To increase the readability of your documents for employees and outside addressees, features for optimizing accessibility are available in all programs. In addition to support for internationally valid standards, this also includes practical suggestions for design. When you click on the "Check accessibility" tab, the respective program displays a list of errors and warnings, as well as tips and recommendations for correcting or eliminating them. When sending via Outlook to international recipients, you can find out whether they are currently present by displaying the time zone, among other things.
To also make the joint editing of documents and files by multiple employees more accessible, the Microsoft cloud service OneDrive is available in Office 2019 for Mac; this allows simultaneous access to data including its update in real time from anywhere. Comprehensive access and modification rights ensure that even critical data and information can be shared securely via the cloud.
An overview of other new features in the Office 2019 for Mac applications
In Office Mac 2019 Standard, in addition to the aforementioned optimizations, there are also quite a few new features in the programs Word, Excel, PowerPoint as well as Outlook:
Word 2019 makes texting easier with a number of handy tools, such as the Review feature, which lets users look up foreign words or phrases instantly without having to open a browser window. The research function also allows them to research topics, with Microsoft Academic Search also available. This also facilitates proper citation.
Excel 2019 now also offers real-time collaboration, which allows users to work on spreadsheet documents synchronously. In addition, new options for illustrations are available with map and funnel charts. Also, Excel now offers PowerPivot as well as PowerQuery enhancements. Also new in Excel is the integration of Data Loss Protection to find confidential data, such as credit card numbers and the like, as well as text concatenation.
PowerPoint 2019 provides new visual effects for animating presentations,: Zooms and morphing transitions increase the dynamics of the sequence of slides. Furthermore, new icons, SVG vector files and 3D models are available for illustration, which can also be edited. To highlight text passages, the text marker previously known from Word can also be used in PowerPoint.
Outlook 2019 includes new handy features to manage emails: These include an intelligent tool that automatically sorts emails according to their importance and relevance, and with the Text-to-Speech function, they can also be read aloud, which is particularly handy when using them via iPhone. In addition, the proven Data Loss Protection - DLP- ensures that critical data is protected from access by unauthorized others.
More exclusive features in Office Mac 2019 Standard
Buyers of Office Standard Edition for Mac 2019 have access to a few more features, apart from those already mentioned, that make management or control easier for administrators in particular, while also providing enhanced security.
Volume License Key - VLK - for activation of Office Mac 2019 Standard
Since the Office 2019 Standard edition is primarily available as a volume license for larger organizations, the Volume License Key provides administrators with a tool for easier automated activation as well as management of MS Office.
Group Policy - with policies for higher security
The so-called Group Policy Object - GPO - provides admins with effective group policies to secure Office 2019 for Mac via ADMX templates, including controlling updates as well as macros in documents, for stronger security.
Using Office Mac 2019 Standard with Terminal Services / Remote Desktop Services
The Office Mac 2019 Standard edition includes the option to use all applications through a Terminal or Remote Desktop server, allowing older Macs to do so.
Telemetry App
Enabled by default on the Mac in Office Standard 2019, the Telemetry app is a user experience enhancement tool. Telemetry does this by transmitting technical data (telemetry data) about the operating system you are using to Microsoft.
Update Control for Office
Update Control provides several options for activation in the context of feature or function updates and security-related quality updates (patches and hotfixes): Less important feature updates can be ignored, for example, while essential updates can be deferred for up to 5 weeks.
General system requirements for Microsoft Office Mac 2019 Standard
The system requirements listed below apply to MS Office Mac 2019 Standard as well as all other Mac editions; additional requirements may also apply.
Operating system: a version of the three most recent and current macOS operating systems (Big Sur, Catalina, Mojave, or High Sierra)
Processor: Intel
Memory: at least 4 GB RAM
Hard disk: at least 10 GB available space in HFS+ (macOS Extended) or APFS format
Screen resolution: 1,280 x 800 pixels
What should I bear in mind when installing Office Mac 2019 Standard?
Since Apple has supported 64-bit as standard since macOS 10.5, it is recommended that you use this version. The Office software is installed exclusively with the Click2Run installer ("click-and-lose file").
What are the licensing terms for Microsoft Office Mac 2019 Standard?
The Standard edition of Microsoft Office Mac 2019 is licensed for a very specific endpoint device - desktop PC, laptop, etc. It also includes the installation of a copy on a network server to be used remotely or via Virtual Desktop Infrastructure (VDI) with the end device licensed for that purpose. Prerequisite is the installation of the corresponding Microsoft software.
Buy Microsoft Office Mac 2019 Standard cheap at Wiresoft Software Shop
The Microsoft Office 2019 Standard Edition for Mac - usually only available as a volume license - is also available from Wiresoft as a single license, and at a particularly low price - including these benefits:
Immediately after completed payment, your single license of Office Mac 2019 Standard is available as an Electronic Software Download (ESD) for installation on your Mac.
The Microsoft Office Mac 2019 Standard license purchased in the Wiresoft Shop is a single license that was originally part of a volume license.
In this case, you will receive from Wiresoft for all available Microsoft Office licenses exclusively a software product intended for use only by yourself.
The originally installed software of the first user was deleted during the sale to Wiresoft, so that the corresponding Office license is 100% free and usable again.
All such individual licenses originating from previous volume licenses were thoroughly checked by Wiresoft for their absolute usability prior to the sale.
As a serious software dealer, Wiresoft does not offer trial versions that are valid for a limited period of time or that can only be used with restrictions.
With every license purchase from Wiresoft you can be absolutely sure that you are purchasing an original Microsoft product - in compliance with all legal requirements.
If you have any questions about purchasing Microsoft Office Mac 2019 Standard, please contact us by email, phone or chat.
Bewertungen lesen, schreiben und diskutieren...
mehr
Customer evaluation for "MICROSOFT OFFICE MAC 2019 STANDARD"
From:
Lenard Berlin
On:
Oct 4, 2020
Hat alles reibungslos und schnell funktioniert. Office war in 5 Minuten auf meinen MacBookAir 2020 installiert.
From:
Jörg Patzelt
On:
Feb 10, 2020
Office läuft nicht nach Installation.
Bitte um Rückruf 01603601627. danke
From:
Franz Beckenbaur
On:
Jan 19, 2020
Wie gewohnt spitze!
Wie gewohnt spitze!
Write an evaluation
Evaluations will be activated after verification.