Cookie-Einstellungen
Diese Website benutzt Cookies, die für den technischen Betrieb der Website erforderlich sind und stets gesetzt werden. Andere Cookies, die den Komfort bei Benutzung dieser Website erhöhen, der Direktwerbung dienen oder die Interaktion mit anderen Websites und sozialen Netzwerken vereinfachen sollen, werden nur mit Ihrer Zustimmung gesetzt.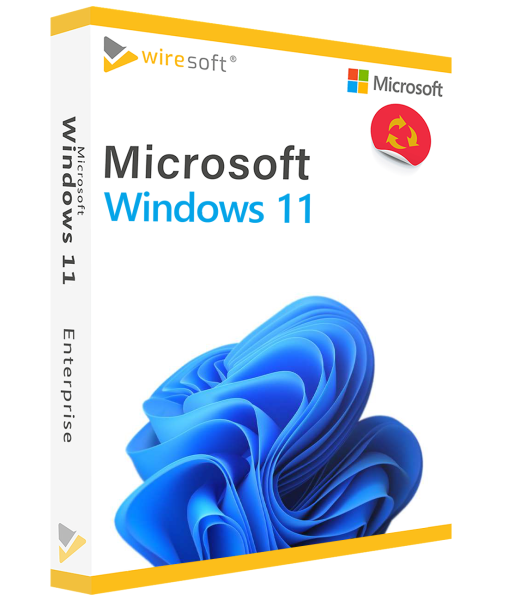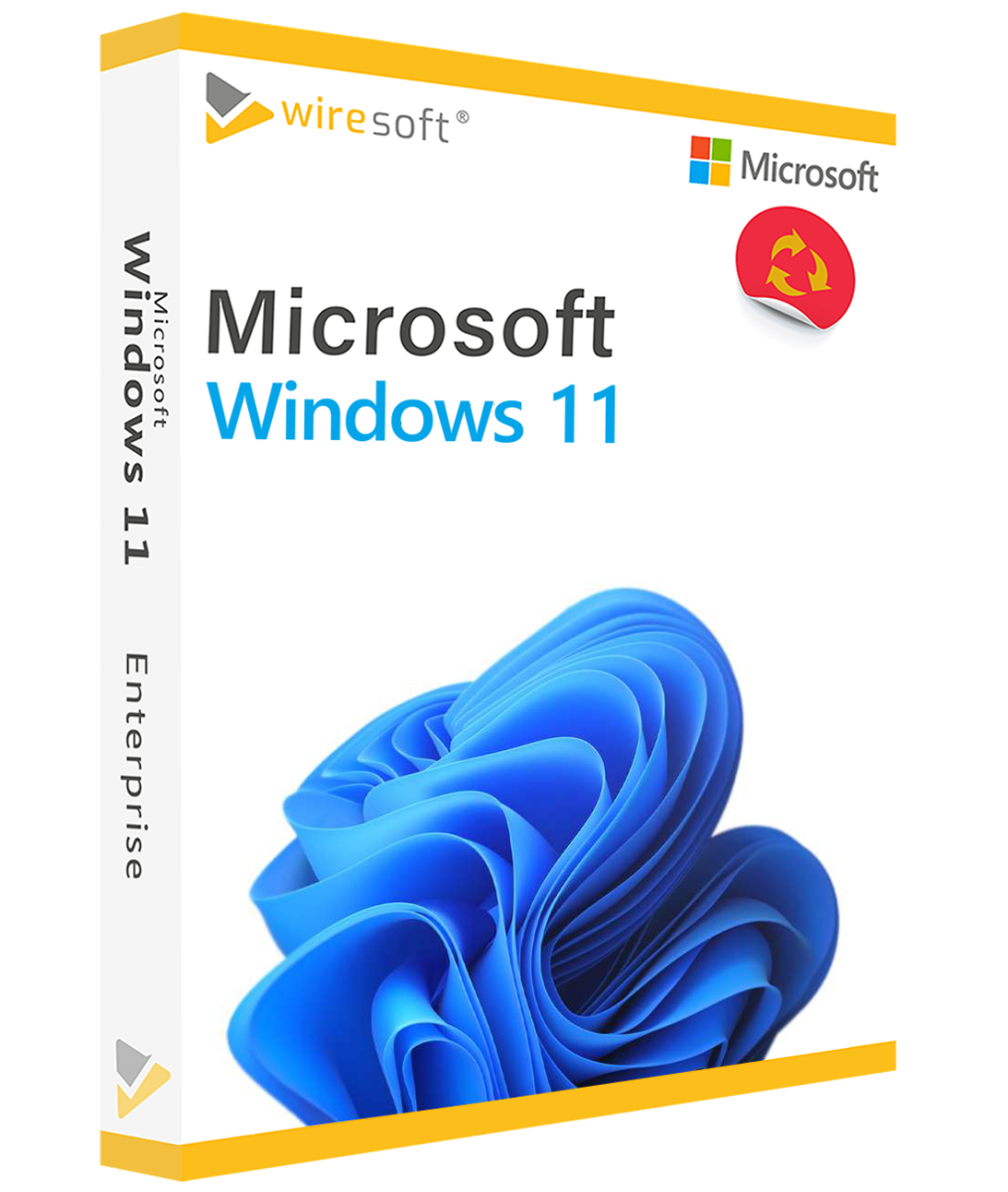 MICROSOFT WINDOWS 11 ENTERPRISE

Prices incl. HST
Available as instant download
---
Are you a business customer or do you have legal questions?
I am here for you.
---
Kadir Aydin
Microsoft Licensing Professional (MLP)
Order number:

SW10451

Benefits

- Fast delivery
- Authorised original product
- Shipment within 24 hours
- Chat, e-mail and telephone support

Windows 11 Enterprise - the most comprehensive Microsoft operating system for professional users...
mehr
Product information "MICROSOFT WINDOWS 11 ENTERPRISE"
Windows 11 Enterprise - the most comprehensive Microsoft operating system for professional users
With the new Windows 11 Enterprise, larger companies that place particularly high demands on the security of an operating system receive the maximum of functions and options to efficiently manage all relevant tasks. Windows 11 Enterprise is designed specifically for hybrid work in such companies and organizations that require enhanced security and also a more comprehensive management. This edition provides a higher level of protection, including virtualization-based security and hypervisor-protected code integrity. Instead of using passwords, users conveniently and securely log in using Windows Hello for Business with multi-step authentication.
Windows 11 Enterprise offers the maximum features and is available in 2 versions as:
Windows 11 Enterprise E3 includes more security and control features as well as advanced management features.
Windows 11 Enterprise E5 has additionally the Microsoft Defender for Endpoint with again extended management functions.
Windows 11 Enterprise presents itself in a new desktop interface, which makes working on the PC even more intuitive and thus also more user-friendly. The most striking innovations include the attractive "Float Design" with floating elements, the revised Start menu with central control, the integration of "Teams" in the task bar, a further improved search function, optimised options for working with touch, digital pen and voice recognition, and the "Dark Mode" for focused work.
These 64 bit full versions of Windows 11 Enterprise are not available in the regular software trade for private customers or individually: With Wiresoft you have the possibility to buy these versions as used software and thus also as individual licenses and thus benefit from the plus in business functions as well as in performance.
For more information on the new features and functions of Windows 11 Enterprise, please read the following overview - as well as contact a Wiresoft representative in person via live chat.
Windows 11 Enterprise simply offers more for businesses
The new Windows 11 Enterprise offers the maximum of functions and tools, which are of great importance for the administration of users and end devices, especially in large companies with many employees.
Windows 11 Enterprise is - adapted to the different size and security needs of companies - available in two variants:
Windows 11 Enterprise E3 - with the following features:
Versatile options for the deployment of the operating system including controlled updates
Comprehensive management options for devices and apps
Serverless print management for universal printing
Advanced protection against the latest security threats
Windows 11 Enterprise E5 - also includes:
Microsoft Defender - the complete holistic solution especially for larger enterprises using endpoint security delivered via the cloud through features such as:
Endpoint protection and detection and response
Security Risk Management
Mobile Threat Defense (MTD) to detect threats and risks on mobile devices, such as mobile phishing
More comprehensive threat protection with Microsoft Defender for Windows 11 Enterprise E5
With Microsoft Defender for Windows 11 Enterprise E5, organizations gain unparalleled threat insight and benefit from the expertise of world-class security experts with advanced monitoring, analysis, and support.
This holistic automated security solution specifically protects endpoints in the cloud - including endpoint detection and response - with features including:
risk-based assessment, attack surface reduction, and next-generation behavior-based protection, feature-rich APIs, and unified vulnerability management to take immediate and appropriate action
especially protection against new polymorphic and metamorphic malware - in addition to fileless and file-based threats
Advanced behavioral analytics and machine learning detect attacks and zero-day exploits through behavioral monitoring
Reduce attack surfaces in organizations that are vulnerable to cyber threats
Hardware-based isolation to protect the integrity of a system - both at startup and during execution through local and remote evidence
Container isolation for Microsoft Edge to protect against malicious websites
Other new features in Windows 11 Enterprise
Users will also benefit from many other features in the new Windows 11 Enterprise Edition - a large portion of these are the additional security features, but there are also a number of interesting new features in the system administration area in addition to general optimizations.
Security
In terms of security, the following features are available in Windows 11 Enterprise:
Hyper-V is a visualization technique that allows operating systems to run as virtual machines. Among the advantages of Hyper-V is the lower utilization of server capacity as well as the resulting reduced use of energy resources - and the higher security due to a separate execution of virtual services.
BitLocker is an effective encryption technology to securely encrypt hard drives - especially from mobile devices such as tablets and laptops. With "BitLocker To Go", USB sticks and external hard drives can also be encrypted.
The Windows Sandbox allows the use of a virtualized version of Windows 11 without installing a VHD (virtual hard disk) in order to test unknown programs and applications.
Windows Defender Application Guard (WDAG) makes it possible to also use the browser in a kind of sandbox. This can prevent attacks that occur when surfing the Internet by isolating websites that are declared as untrustworthy as well as Word, PowerPoint and Excel files and thus preventing them from accessing trusted data in the company.
Management
In larger organizations, managing a large number of individual users or groups in a differentiated manner is a challenge that should not be underestimated. Windows 11 Enterprise provides new features for this purpose:
Group policies for managing end devices as well as user accounts and user groups, both for access rights to data and devices as well as for updates - e.g. with compliance deadlines - and for storage optimization (Storage Sense).
In Kiosk mode, each employee receives a user account with a separate identity, which simplifies the configuration of the end devices.
Remote Desktop App allows remote access from a PC, tablet or smartphone from a remote location to use their own computer at the corporate site.
The Microsoft Business Store provides apps in a central location that can be made available to specific users.
General innovations with Windows 11 Enterprise
Windows 11 also includes many features in the Enterprise edition, as well as additions that offer users a new look and feel while working - for example, with:
"Floating Design": the new design of the desktop interface of Windows 11 is distinguished by transparent floating windows that give it a three-dimensional look, along with the new wallpaper that resembles a folded fabric, as well as many new system icons.
"Segoe Fluent" is the new design for displaying glyphs. Segoe Fluent is based on three principles: A glyph contains only details that are also necessary to communicate the meaning (minimal). Each glyph is based on simple geometric shapes (Basic) and has an easy-to-understand modern style (Evolved).
The new "Sun Valley" design stands out because of the rounded corners of the elements, in addition, less frequently used functions have now disappeared from the menu , so that more important functions are accessible more quickly.
The new Windows 11 Enterprise Start menu no longer features the "live tiles" as before, but is more closely aligned with the look and feel of Microsoft's smartphones - the result is that users will now find a consistent user interface across all device types.
The taskbar - including new icons - is now centered at the bottom of the screen, and its position can be left-aligned as before. It also contains the communication platform Teams, which now replaces Skype, users can chat or participate in video conferences with a click.
In the info center, the notification center is separated from the quick settings, clicking on the date displays the calendar.
The widgets missed by many are back, with the news bar "news and interesting topics", widgets from other providers can be added.
The new tablet mode includes more touch gestures as well as an improved on-screen keyboard.
Windows 11 also allows Android apps to be used or the smartphone to be linked.
A new snipping tool for screenshots as well as a new calculator with additional features, the new design for the Microsoft browser Edge, etc. are also among the additions in Windows 11 Enterprise.
Proven exclusive features of Windows 11 Enterprise
In the latest version of Windows 11 Enterprise, the proven features of the previous version are also expected to be available again, with:
DirectAccess for remote users to enjoy the connectivity of network resources even without a VPN connection
Windows To Go Creator, so that users can use Windows 11 Enterprise on a USB stick or USB hard drive eveng on a foreign end device,
AppLocker: this defines rules for the use of apps on an Enterprise computer, including whitelisting
BranchCache optimizes bandwidth and improves speed
Universal Write Filter stores data in memory so that it is available until a reboot
Credential Guard secures login data via "Virtualization Based Security" isolated from the rest of the operating system
Device Guard allows workstations to be configured so that only defined applications can be run
Desktop Analytics is a cloud-based service that provides information about useful updates to Windows clients.
For more information on the availability of these and other features of the pre-release version of Windows 11 Enterprise, chat with a Wiresoft representative.
Hardware requirements for Windows 11 Enterprise
Windows 11 Enterprise can be installed on a 64-bit version. In order to use one of these on a local PC or laptop without restrictions, their hardware must meet certain requirements that differ from those for previous versions. Windows 11 Enterprise Edition also now supports up to 2 TB of memory instead of 128 GB, plus a maximum of 2 full-size processors or 128 CPU cores. For further details, please contact a Wiresoft representative. The following minimum requirements apply:
Processor: Dual-core CPU (1 GHz) with 64-bit support
Memory: 4 GB RAM
Hard disk space: 64 GB (64-bit)
System: UEFI version 2.3.1 or later with Secure Boot enabled for secure boot
Firmware: Trusted Platform Module (TPM) version 2.0
Graphics card: DirectX 12 with WDDM 2.0 driver
Display: High resolution (720p), larger than 9 inches, 8-bit color channel
Buy Windows 11 Enterprise E3 and E5 already today as used software at a reasonable price in the Wiresoft Online Shop
The new Windows 11 Enterprise operating system is now available in the two versions Enterprise E3 as well as Enterprise E5 as used software in the Wiresoft Software Shop - these are not only available to you at a significantly lower price than comparable new products, but also the restrictions on new Enterprise software licenses, which apply to sales to private customers as well as to single licenses in general, no longer apply. In addition, when you buy used software with Wiresoft, you also benefit from the following advantages:
When purchasing Microsoft Windows 11 Enterprise Edition, customers with Wiresoft receive an original software license that was previously purchased by a company and sold to Wiresoft.
The legal basis for the resale of used Windows 11 Enterprise software is the applicable law, which allows the sale of Microsoft software as well as the purchase and use.
The Windows 11 Enterprise software is described as "used" when resold, and "used" does not imply any limitations on its functionality or that it has actually been used.
If the Windows 11 Enterprise software has already been installed or activated by the previous purchaser, it has been deleted again before being sold to Wiresoft, so that it can be used 100% again.
This used Windows 11 Enterprise software offered for resale by Wiresoft has also been tested for full usability prior to sale.
A Windows 11 Enterprise software license offered for sale as used by Wiresoft, as well as other used Microsoft software, is neither a limited-use or time-limited trial version, but a software product authorized for you to activate after your purchase.
After your successful purchase, the Windows 11 Enterprise software is immediately available to you via Electronic Software Download (ESD).
When you buy a used license of Microsoft software from Wiresoft, you can be sure that you always purchase and use an original and legal Microsoft product.
If you have any further questions regarding your purchase of Windows 11 Enterprise E3 or E5 as used software or any other edition of the new Windows 11 operating system as well as older Windows versions or other Microsoft software, please feel free to contact us by e-mail, phone or chat.
Bewertungen lesen, schreiben und diskutieren...
mehr
Customer evaluation for "MICROSOFT WINDOWS 11 ENTERPRISE"
Write an evaluation
Evaluations will be activated after verification.