Cookie-Einstellungen
Diese Website benutzt Cookies, die für den technischen Betrieb der Website erforderlich sind und stets gesetzt werden. Andere Cookies, die den Komfort bei Benutzung dieser Website erhöhen, der Direktwerbung dienen oder die Interaktion mit anderen Websites und sozialen Netzwerken vereinfachen sollen, werden nur mit Ihrer Zustimmung gesetzt.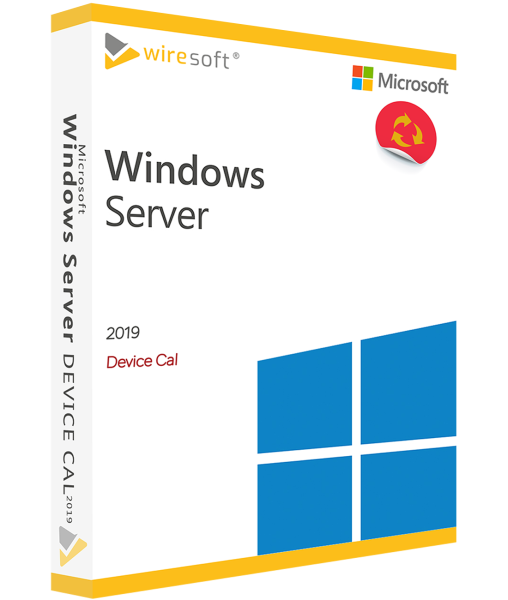 MICROSOFT WINDOWS SERVER 2019 DEVICE CAL

Prices incl. HST
Ready for immediate dispatch, delivery time 24h
---
Are you a business customer or do you have legal questions?
I am here for you.
---
Kadir Aydin
Microsoft Licensing Professional (MLP)
Order number:

SW10074

Manufacturer No:

R18-05767

Benefits

- Fast delivery
- Authorised original product
- Shipment within 24 hours
- Chat, e-mail and telephone support

Microsoft Windows Server 2019 Device-CAL Through Microsoft Windows Server 2019, the user...
mehr
Product information "MICROSOFT WINDOWS SERVER 2019 DEVICE CAL"
Microsoft Windows Server 2019 Device-CAL
Through Microsoft Windows Server 2019, the user now has the latest version of the server software available, which is not only responsible for the creation and maintenance of servers, but also brings many other features with it, which make the tasks and activities with servers much easier. This article explains what this software is about and where it can be used. It also gives hints on how to install it so that it can be done without any problems.
What exactly is Microsoft Windows Server 2019 and why is this software needed?
In today's world, servers are responsible for many activities that run in the background and make people's lives much easier. For example, a cloud is always operated by a server - even e-mails are sent via servers or stored on them. Such a server also requires an operating system and Microsoft Windows Server is one of the possible operating systems that can be used to create and maintain a server.
The user can then set up a server and assign different users and tasks to the server. In this way, other users or employees in a company can use the server for data backup and data storage or also have calculations performed on the server. Microsoft Windows Server is not only suitable for larger companies, but also for smaller companies or private individuals. A website can also be created by using Microsoft Windows Server.
The new version of Windows Server also integrates several tools from the Linux operating system such as SSH or Curl, which make working with other operating systems much easier.
On how many devices can this software be used?
This software is a so-called "Device Cal". This implies that the installation of Microsoft Windows Server is bound to a particular computer by its MAC address. However, any number of users can log on to the computer and use the server. An installation on a second computer is not possible. In addition to this "Device Cal" license, there is also the so-called "User Cal". With this license, Microsoft Windows Server is bound to a certain user, but the user can then log in on any computer on which the operating system is installed. Depending on the application, the appropriate license can be selected here.
Does the computer have to meet certain requirements in order for Microsoft Windows Server to work on it?
The hardware of the server must meet some conditions to make Microsoft Windows Server work. First of all, the processor should have a clock rate of at least 1.4 GHz, a higher clock rate can significantly increase the efficiency and speed of the system. In addition, approximately 512 MB of RAM and at least 32 GB of hard disk space are required to install Windows Server. More RAM and an SSD can also increase the efficiency of the system and speed up work with Microsoft Windows Server.
In addition, the server must also have access to the Internet, which is usually provided by an Ethernet adapter or a WLAN adapter. In most cases these adapters are already built into the server.
What is the procedure for installing Microsoft Windows Server?
The operating system can be installed either from a CD or from a USB stick. During installation, the user is usually supported by a wizard, which guides him through the installation. Here the user can also choose whether the system is then to be controlled by a GUI or by the command line. The latter option is very useful for advanced users. It is important during installation that the media is bootable, so that the computer recognizes the media at startup and starts the installation. If the installation does not start automatically, the settings in the BIOS should be checked so that the CD or USB stick is listed first among the boot media.
Later, the server can also be accessed via SSH over a secure connection so that work on the server can be done remotely from another computer.
Bewertungen lesen, schreiben und diskutieren...
mehr
Customer evaluation for "MICROSOFT WINDOWS SERVER 2019 DEVICE CAL"
Write an evaluation
Evaluations will be activated after verification.