Cookie-Einstellungen
Diese Website benutzt Cookies, die für den technischen Betrieb der Website erforderlich sind und stets gesetzt werden. Andere Cookies, die den Komfort bei Benutzung dieser Website erhöhen, der Direktwerbung dienen oder die Interaktion mit anderen Websites und sozialen Netzwerken vereinfachen sollen, werden nur mit Ihrer Zustimmung gesetzt.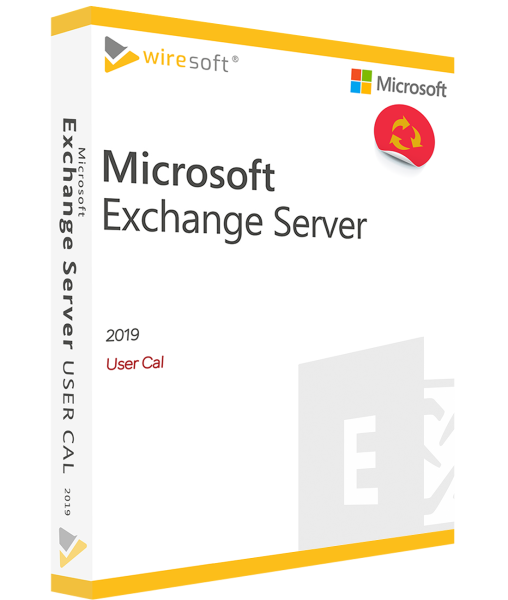 MICROSOFT EXCHANGE SERVER 2019 USER CAL

Prices incl. HST
Ready for immediate dispatch, delivery time 24h
---
Are you a business customer or do you have legal questions?
I am here for you.
---
Kadir Aydin
Microsoft Licensing Professional (MLP)
Order number:

SW10054

Manufacturer No:

381-04492

Benefits

- Fast delivery
- Authorised original product
- Shipment within 24 hours
- Chat, e-mail and telephone support

Microsoft Exchange Server 2019 User CAL In many larger companies Microsoft Outlook is used...
mehr
Product information "MICROSOFT EXCHANGE SERVER 2019 USER CAL"
Microsoft Exchange Server 2019 User CAL
In many larger companies Microsoft Outlook is used for sending e-mails and invitations. The software not only makes it easier to write and categorise mails, but also allows access to these data from on the road and central data backup through the so-called Microsoft Exchange Server. With Microsoft Exchange Server 2019 User CAL, Microsoft is bringing its server up to date and also offering some new functions that are very helpful for users. This article explains exactly what Microsoft Exchange Server 2019 User CAL is and what it can be used for. It also gives a short summary of the installation process.
What exactly is Microsoft Exchange Server 2019 User CAL?
Microsoft Exchange Server is an operating system from the computer giant Microsoft, which is used to set up and maintain a so-called Exchange Server. Such a server is primarily necessary if e-mails are to be globally secured and sent within a company. Such a server can be used for this purpose. Users can then connect to the Exchange Server on any device, ideally using Outlook. The e-mails can then also be retrieved on the mobile devices. Centralization makes the maintenance and setup of such a server very simple and efficient. However, the Microsoft Exchange Server is not only suitable for large companies, but also for small businesses that want to ensure centralized e-mail storage.
How many users can use Microsoft Exchange Server 2019 User CAL?
The so-called "User CAL" license is limited to one user. This means that this user can log in on any server on which Microsoft Exchange Server is installed. It is not possible for another user, for whom the license is not issued, to log in. With the so-called "Device CAL", the license is bound to a device and any number of users can log on to the device. The binding to the device itself is usually done by the MAC address, which is unique for each Ethernet port.
What should be considered when installing Microsoft Exchange Server 2019 User CAL?
The installation itself can be done either as a GUI installation or through the command line (terminal). During the installation in the GUI, the user can also specify that the system itself can only be configured later through the terminal. In both cases, the server can later be accessed via SSH through a secure connection, so that settings can be made from another computer. It is not absolutely necessary to connect a monitor to the computer.
During installation, the user should make sure that the installation medium is bootable - this can be e.g. a USB stick or a CD. Settings in the BIOS may need to be changed so that the computer first boots from the CD or USB stick.
What are the hardware requirements for the server to allow Microsoft Exchange Server 2019 User CAL to function properly?
The server itself should of course have hardware that allows Internet access. This is usually either a WLAN adapter or an Ethernet adapter. In most cases, both are already pre-installed in the hardware. The server's processor should have a clock speed of at least 1.4 GHz and a RAM of at least 512 MB. More memory and higher processor clock speeds can significantly increase the performance and responsiveness of the computer. A minimum of 32 GB of memory on the hard disk is also required. With an SSD, the efficiency of the server can also be increased. Furthermore, a hard disk is also necessary on which the data is backed up. This should have a suitable size depending on the size of the company.
Bewertungen lesen, schreiben und diskutieren...
mehr
Customer evaluation for "MICROSOFT EXCHANGE SERVER 2019 USER CAL"
Write an evaluation
Evaluations will be activated after verification.