Cookie-Einstellungen
Diese Website benutzt Cookies, die für den technischen Betrieb der Website erforderlich sind und stets gesetzt werden. Andere Cookies, die den Komfort bei Benutzung dieser Website erhöhen, der Direktwerbung dienen oder die Interaktion mit anderen Websites und sozialen Netzwerken vereinfachen sollen, werden nur mit Ihrer Zustimmung gesetzt.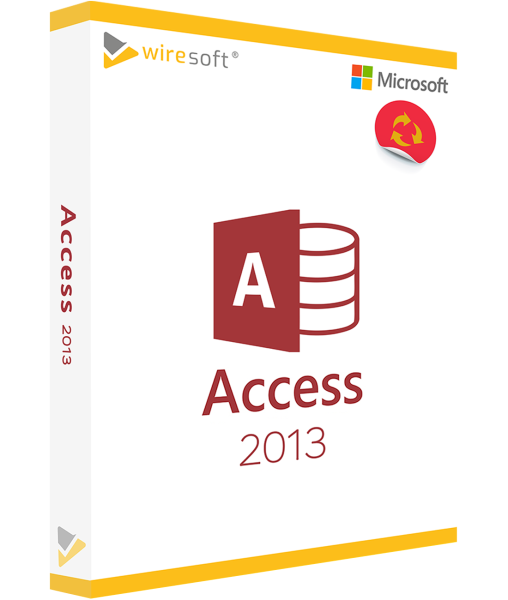 MICROSOFT ACCESS 2013

Prices incl. HST
Available as instant download
---
Are you a business customer or do you have legal questions?
I am here for you.
---
Kadir Aydin
Microsoft Licensing Professional (MLP)
Order number:

SW10031

Manufacturer No:

077-06126

Benefits

- Fast delivery
- Authorised original product
- Shipment within 24 hours
- Chat, e-mail and telephone support

MS Access 2013 as individual programme Microsoft Access 2013 is a further version of the...
mehr
Product information "MICROSOFT ACCESS 2013"
MS Access 2013 as individual programme
Microsoft Access 2013 is a further version of the powerful Microsoft database management system for collecting data in a structured form and making it available for various types of further use. Access 2013 offers suitable interfaces that allow not only the import of Excel and PDF files, but also of many types of SQL databases. Intuitively usable tools allow even inexperienced users to quickly get started with the software and create different types of database applications according to their individual requirements - especially for enterprise goods management, data management and project management, but also for private purposes. Access 2013 is therefore ideally suited for small to medium-sized databases with up to 10 users.
Access provides users with numerous integrated templates and layouts that can be used to quickly and easily create typical applications based on the desktop interface familiar from Office 2013. The software also offers extensive reporting functions for professional evaluation of the status quo and other reports.
Via Office 365 or a SharePoint connection, Access 2013 also offers all the prerequisites for simplified team collaboration. Users who already use Windows 8 as their operating system can also take advantage of the optimized touch functionality and use the software to its full extent on the corresponding end devices.
However, the most important new feature of Access 2013 is the Access Web App! Once it has been created, this type of database can be published via SharePoint so that all employees with access rights can access it and work with it in real time.
Access 2013 is usually only available as an integral part of the MS Office Professional and Professional Plus (or as a subscription). By purchasing the single version of Access 2013 from Wiresoft, not only the users of other Office 2013 editions, but also users who do not have an Office installed can use this software on their PC. Access 2013 also offers the advantage that the program is still supported by older Microsoft operating systems from Windows 7 onwards - this means that users who do not want to change to the current operating system can benefit from the program.
In the Wiresoft online shop you can buy the 2013 version of MS Access as well as other versions of the software including the very latest version as a single-user license at a reasonable price - as well as the other Office. The following overview gives you an idea of the most important functions and features in Access 2013.
Configuring and editing database applications in Access 2013 individually
By incorporating the Microsoft Jet Engine as a database system, Access provides all the tools of an integrated development environment. Thanks to its graphical user interface, it is ideally suited for creating typical database applications. Access 2013 offers users many visual programming objects that are already geared towards database access, making it possible to create suitable applications efficiently and quickly without having to have extensive programming skills.
As a Relational Database Management System (RDBMS), Access 2013 offers the decisive advantage over comparable database systems that the data captured via it can be used flexibly, so that users can update it at any time and thus also change, add to or even delete it. This transaction-oriented design makes MS Access 2013 ideal for managing business-relevant data and supporting operational systems in companies; typical tasks include not only the recording and provision of projects and task lists, but also contact databases and, in particular in shop systems, the tracking and management of inventories.
Access 2013 supports the database query language SQL-92. Access uses both the older .mdb and the newer .accdb format (abbreviation for Microsoft Access Database) as Standard, which can also be opened by programs outside of Microsoft. When linking to an external data source, other Access versions and non-Access formats can also be used.
With Access 2013, different forms and object types of databases can be created or used - among other things
Forms for structured data entry
Specifications for import and export
Tables for the storage of data
Queries for the further processing of the recorded data
Reports for the output of recorded data
Macros for the automation of certain processes
Visual Basic modules for the simplification of certain processes
Links between tables including the definition of integrity conditions
The forms that can be individually created in Access 2013 are an extremely practical feature for entering and managing data not only manually but also automatically via interfaces. Individual data records can be displayed in the form view in a structured and clearly arranged manner, which makes input and maintenance much easier. Various so-called form layout tools are available for creating these Access AutoForms according to requirements.
Creating apps with Access 2013
However, the most important innovation that Access 2013 has to offer are the Apps! With the integrated tools, users can create different applications even without programming skills. To do this, they must first select the appropriate data type, so that Access automatically creates a complete database structure for this purpose, which already has a user-friendly interface. In addition to typical basic functions, the app already contains various Standard for adding or editing data and for navigating.
Controls can be placed or moved to a specific position as required without having to make extra changes to the layout. This feature is intuitive, so users simply click and drag the element in question to the desired position, and other controls that are there are automatically moved aside to create the appropriate space.
By connecting to Microsoft SharePoint as a SharePoint app, Access Web applications can be made available online via a web browser and thus shared with other users. This means that databases created in Access can be used not only locally on the PC, but also independently of location via an available Web connection.
The other advantages of providing Access apps via SharePoint are, on the one hand, the possibility of obtaining information about the use of the app itself, and also of tracing information generated about it.
The connection of Access 2013 to the Microsoft SQL Server and the Azure SQL database also offers greater reliability and security as well as the scalability of data - both when it is provided in the cloud and when it is used locally.
System requirements for Microsoft Access 2013
The Office Program Access 2013 is offered by Microsoft in the following versions: 32-bit and 64-bit. The 32-bit version of Access 2013 is supported on the Windows Windows 7, Windows 8, and Windows 8.1.
The 64-bit version of Access 2013 is also supported on Windows Server 2008 R2 and Windows Server 2012 in addition to these Windows supported by the 32-bit version. Depending on the version, other hardware requirements for memory and hard disk space vary. The following minimum requirements therefore apply:
Operating Systems: Windows 7, Windows 8; Windows Server 2008 R2 or Windows Server 2012
The use of Multi-Touch functionality is optimized for Windows 8
Processor: 1 GHz or faster - x86 or x64-bit processor
Memory (RAM): at least 1 GB (32-bit); 2 GB (64-bit)
Hard disk: at least 3 GB
Screen: Minimum resolution 1,024 x 576 pixels and DirectX10-compatible graphics card
Microsoft Access 2013 at Wiresoft buy cheap single
MS Access 2013 is a classic, fixed component of the MS Office Professional and Professional Pro and is therefore not available as a purchased version separately, but only with one of these Office or as a paid subscription. In the Wiresoft online shop you can also buy the Access 2013 program separately - without the other subscription option with obligatory updates, if applicable; i.e. you only incur these one-time costs for this purchase. This is a full version of the program, which has the same range of functions as the Office 2013 software component, with the only difference that it is a single license of Access 2013, which is used exclusively by you.
Secure software purchase with Wiresoft: The purchase of Access 2013 is not only particularly inexpensive with Wiresoft, but also secure: This offered Access 2013 single user license originally comes from a larger volume license, which is otherwise only used in a larger company. These companies are legally entitled to sell unneeded software licenses, e.g. to Wiresoft - either because they are not needed and are surplus, or because this program version has been replaced by a newer one or is no longer supported due to a change in hardware or operating system. In the process, these are removed from the volume license and converted into individual licenses and then referred to as used software or used software. However, their general functionality is not affected by this, as the software itself cannot wear out. Wiresoft also only sells full versions of Access and other Microsoft programs that are identical to the original Microsoft versions and come from secure and legal sources.
When buying used software with Wiresoft, you do not take any legal risk, because the sale as well as the purchase of used software is secured by law.
The Access 2013 software you have purchased can be installed on your PC immediately after your purchase and download and can be activated with a valid volume license key - also called Multi-Activation-Key (MAK) - and used without restrictions.
Buying software with Wiresoft is a particularly economical solution to be able to use otherwise expensive or individually unavailable programs. Not only freelancers and SMEs but also private users benefit from this. In this way they get all the advantages that Access 2013 has to offer at a reasonable price and save money on top of that!
In the Wiresoft Software Shop you will find newer and older versions of Access 2013 as well as many other Office and other Microsoft programs as purchase versions. If you have any questions about MS Access 2013 or any other Microsoft program, simply use our advice by e-mail, phone or chat.
Bewertungen lesen, schreiben und diskutieren...
mehr
Customer evaluation for "MICROSOFT ACCESS 2013"
Write an evaluation
Evaluations will be activated after verification.