Cookie-Einstellungen
Diese Website benutzt Cookies, die für den technischen Betrieb der Website erforderlich sind und stets gesetzt werden. Andere Cookies, die den Komfort bei Benutzung dieser Website erhöhen, der Direktwerbung dienen oder die Interaktion mit anderen Websites und sozialen Netzwerken vereinfachen sollen, werden nur mit Ihrer Zustimmung gesetzt.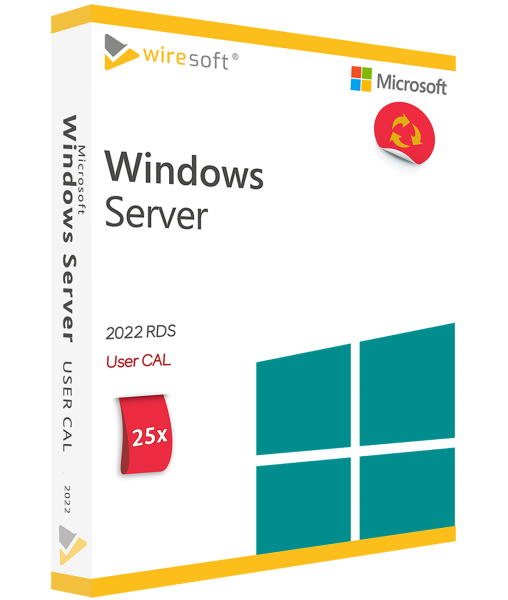 MICROSOFT REMOTE DESKTOP SERVICES 2022 - 25 PACK USER CAL

Prices incl. HST
Ready for immediate dispatch, delivery time 24h
---
Are you a business customer or do you have legal questions?
I am here for you.
---
Kadir Aydin
Microsoft Licensing Professional (MLP)
Order number:

SW10474

Benefits

- Fast delivery
- Authorised original product
- Shipment within 24 hours
- Chat, e-mail and telephone support

25x the latest User CAL for Remote Desktop Services for Windows Server 2022 With the Remote...
mehr
Product information "MICROSOFT REMOTE DESKTOP SERVICES 2022 - 25 PACK USER CAL"
25x the latest User CAL for Remote Desktop Services for Windows Server 2022
With the Remote Desktop Services (RDS) for Windows Server 2022 the applications provided with it can be made available centrally for authorized users. In order for them to be able to use these remotely with a Windows-enabled end device, a Client Access License (User CAL) is always required, which only authorizes them to connect to Windows Server 2022 for a remote desktop session via an end device of their choice. An employee who has personal access rights in the form of an RDS User CAL can then use any end device with a Windows operating system to access the Windows Server, e.g. to use the available programs and services, to access another computer - e.g. for support - or to work with a Virtual Desktop Infrastructure (VDI).
At Wiresoft you can now find Remote Desktop Services User CALs for Windows Server 2022 at low prices as used software. You can also benefit from the purchase of any number of RDS User CALs - without tiering - for your customized licensing.
What are the benefits of the RDS User CAL for Windows Server 2022?
With Windows Server 2022, Remote Desktop Services is a dedicated server role that controls remote access to applications available through a corresponding Windows server that acts as a host. Only a user with a corresponding personal client access license can thus access a PC, laptop, etc. of his choice locally independently, i.e. remotely, via an Internet connection to the Windows server during a session. The programs are executed on the server.
Windows Server 2022 also offers many optimizations of existing as well as new features in the context of remote desktop sessions - especially in the area of network security, but also in the migration of data and servers, for storage and virtualization of applications and for container creation with Windows and Kubernetes.
For example, Windows Server 2022 supports Nested Virtualization using AMD processors, includes a new version of and Shielded Virtual Machines (SVM), Transmission Control Protocol (TCP) as well as RACK (Recent ACKnowledgment) and RSC (Receive Segment Coalescing) and now uses Microsoft Edge as the default browser. Users can also use the latest versions of Software-Defined Networking (SDN), Storage Spaces Direct (SSD) and Storage Replica as well as Transport Layer Security, Virtual OSE, Hyper-V to create and manage highly secure virtualization infrastructures.
Advantages of the Remote Desktop Services User CAL for Users
Especially the employees in a company benefit in many ways from a RDS User CAL for Windows Server 2022. They find a standardized Windows working environment on every end device, regardless of whether it is equipped with a current or an older Windows operating system.
This means that users can also use older end devices that have weaker hardware or performance that would otherwise not be sufficient to access Windows Server 2022 directly. This is because any application that a licensed user with the RDS User CAL accesses via the host as part of a remote desktop session will only run on the server and not on that endpoint. The respective remote desktop session is independent of other client connections and only the user's own session is displayed. Thus User CALs for the Remote Desktop Services of Windows Server 2022 can help to reduce or completely avoid the costs for the provision of current hardware; because with it the use of Thin Clients is also possible.
Benefits of RDS CALs for administrators
Last but not least, the use of a RDS User CAL for Windows Server 2022 also means many practical advantages for administrators, because it can significantly reduce the effort required to manage many end devices in a company, because it also makes deployment, for example, much more efficient. New software or updates can be provided centrally in a company environment instead of installing them on each individual end device, because all applications are only provided centrally on the Windows Server or updated from there.
With an RDS User CAL, the access rights of individual users can also be defined individually, because the Remote Desktop Services allows the assignment of rights for registered employees. This considerably reduces the overall effort required for the maintenance of existing workstations or the provision of new ones.
Microsoft license management for CALs for Remote Desktop Services
For every server software from Microsoft the rule applies that the implementation is independent of the usage. Therefore, a separate client access license (CAL) is always required for each access to the Windows server, whether direct or remote. The respective defined access rights for the use of the Windows Server programs are determined by Microsoft in the so-called license management. It is based on Client Access Licenses - CALs - which are provided for users or end devices.
E.g. User CALs for the Remote Desktop Services ensure that only the user equipped with them has personal access to the Windows Server. According to Microsoft, this is to ensure the security of the data and services provided on a server, as unregistered persons - i.e. those without an RDS User CAL - cannot access them. Microsoft offers CALs in general - and thus also for Remote Desktop Services of Windows Server 2022 - in two different types:
RDS User CAL, which gives a dedicated user their own access rights
Device CAL for RDS, with which a specific end device (e.g. PC, laptop, tablet, mobile phone) is provided with access rights
Each Remote Desktop Services CAL for Windows Server 2022 consists of several components, which together enable a user or a device to use Windows Server Services:
The actual Remote Desktop Licensing governs the use of the respective CAL and makes it available to a User or Device.
The Remote Desktop Session Host manages the desktops or programs that are made available to a user during a remote session.
The Remote Desktop Connection Broker manages the remote connections, restoring them in the event of an abort during a session.
The Remote Desktop Gateway specifically manages a user's access to a provisioned Windows desktop on a public network.
Web Access for Remote Desktop Services provides access for users or groups through a web portal.
What are the specific benefits of an RDS User CAL for Windows Server 2022?
As mentioned above, an RDS User CAL manages the access rights of the licensed user to the Windows server or host for each remote desktop session. The user can use any available end device - whether PC, laptop, tablet, etc. - to access the Remote Desktop Services, even independent of the local server location, provided the device is Windows-enabled and there is an Internet connection. The RDS User CAL therefore offers a greater advantage if an employee frequently uses different end devices, e.g. the PC in the home office and a laptop on the road, etc.
Consider version compatibility for RDS User CALs for Windows Server
The great advantage of purchasing a current RDS User CAL 2022 for Windows Server is that in addition to access rights for the latest Windows Server version, it also includes those for older server versions, such as 2019 (downgrade). When upgrading or purchasing Windows Server 2022 , for example, the current RDS User CAL 2022 is also required for remote access (version compatibility). The previous version of RDS User CAL can therefore not be used for remote connections with Windows Server 2022.
Conclusion about RDS User CALs
Which type of a Remote Desktop Services CAL for Windows Server 2022 offers more advantages in use in a company, consequently depends on the respective company structure. If employees predominantly use different end devices alternately, e.g. at different locations, then the RDS User CAL offers more options and you therefore require a smaller number of client access licenses.
The decision for one type of client access licensing must be made at the time of purchase, as it is not allowed to change an RDS Device CAL into a User CAL or vice versa. Simply ask a Wiresoft representative about the most suitable form of licensing for you with Remote Desktop Services CALs for Windows Server 2022.
Your buyer security with used RDS User CALs for Microsoft Windows Server 2022 from Wiresoft
The current User CALs for Remote Desktop Services for Windows Server 2022 are available in the Wiresoft Online Shop as used software starting with a single client access license. You will not only benefit from the lower price of used software for RDS CALs compared to comparable new software, but also from the buyer's security with the following advantages:
When purchasing one or more RDS User CALs as Used Software, Wiresoft customers receive original Microsoft single licenses that were previously purchased by companies and sold to Wiresoft.
The legal basis for trading used software such as Client Access Licenses for Remote Desktop Services from Microsoft Windows Server 2022 is the applicable law, which permits their resale as well as their purchase and use.
Upon resale, an RDS User CAL to Windows Server 2022 is marked by Wiresoft as used, even though "used" does not imply any limitations on the functionality of that client access license.
If a RDS User CAL marked as used has already been activated by a previous buyer, it has been deleted before resale to Wiresoft and is therefore 100% free to use again when sold in the Wiresoft Shop.
Client access licenses for Remote Desktop Services or other types of Microsoft licenses offered for sale by Wiresoft as used are neither time-limited nor functionally restricted licenses, but are original Microsoft software products authorized only for you after purchase, which have been tested by Wiresoft for full usability prior to sale.
When purchasing a used software license such as the RDS User CAL for Windows Server 2022 k from Wiresoft, you can be sure that you are always purchasing and using an original Microsoft product.
Bewertungen lesen, schreiben und diskutieren...
mehr
Customer evaluation for "MICROSOFT REMOTE DESKTOP SERVICES 2022 - 25 PACK USER CAL"
Write an evaluation
Evaluations will be activated after verification.