Cookie-Einstellungen
Diese Website benutzt Cookies, die für den technischen Betrieb der Website erforderlich sind und stets gesetzt werden. Andere Cookies, die den Komfort bei Benutzung dieser Website erhöhen, der Direktwerbung dienen oder die Interaktion mit anderen Websites und sozialen Netzwerken vereinfachen sollen, werden nur mit Ihrer Zustimmung gesetzt.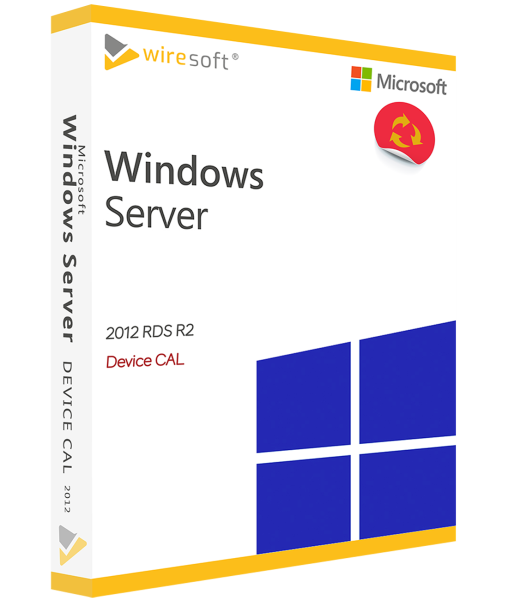 MICROSOFT REMOTE DESKTOP SERVICES 2012 R2 DEVICE CAL

Prices incl. HST
Ready for immediate dispatch, delivery time 24h
---
Are you a business customer or do you have legal questions?
I am here for you.
---
Kadir Aydin
Microsoft Licensing Professional (MLP)
Order number:

SW10082

Manufacturer No:

6VC-02071

Benefits

- Fast delivery
- Authorised original product
- Shipment within 24 hours
- Chat, e-mail and telephone support

Microsoft Windows Remote Desktop Services (RDS) RDS provide an easy way to give employees...
mehr
Product information "MICROSOFT REMOTE DESKTOP SERVICES 2012 R2 DEVICE CAL"
Microsoft Windows Remote Desktop Services (RDS)
RDS provide an easy way to give employees in your organization a secure way to access company data. Replacing the previous Terminal Servers, Remote Desktop Services provide centralized virtualization using Virtual Desktop Infrastructure (VDI) technology. This means that your IT department only needs to maintain one server. It is possible to create different profiles for different users on the Microsoft server, these are then displayed depending on the user's license. The users start a normal Windows on their computers, but all data is on the server. The users log in via a program on this server and see a standard desktop as it is available on the server. From this point on, the user only works in this virtual environment, without any data being transferred from the server to the user's computer. Customer data no longer has to be stored on the user's computer, which is always a risk, but is only kept on the server and the user can see it via virtualization. If there is a problem in the environment, the entire IT department does not have to be called out or other resources blocked. Since it's just a virtual environment, the problem only needs to be fixed on the server. When users log back in, they all see the updated, error-free interface without having to wait. There is also less risk of software updates (including Windows itself) causing problems. Windows Remote Desktop Services offers little attack surface, since only one environment needs to be maintained for many employees, which reduces the effort and makes everyone's work more efficient.
The Remote Desktop session host to which a connection is made decides for each user whether a license is needed to view the virtual desktop and if so, what license. It requests the license and once a user or device license is handed over, the user can start working.
Buy a license on a user or device basis?
The license models are as flexible as you need them to be. If your employees are often on the road or work with different devices, a user-CAL, i.e. a user-based license, is a good choice. For shared computers, where several users share a PC, or if only one device is used per user, you should rather opt for a Device-CAL, i.e. a device-based license. If you are not sure which is the best model for you, just contact our support. Our service staff will be happy to help you. We will calculate the cheaper model for you, because maybe a mixture of licenses makes sense. Depending on how the different departments in your company work, it might be better to have user-based licenses in one place and device-based licenses in another.
Microsoft Remote Desktop Services 2012 R2 DEVICE CAL
The device license offered here entitles a PC to connect to the Microsoft server and thus use the services provided there. If your users have to deal with particularly sensitive data, virtualization of the desktop is a good idea. Each user works in a protected environment and the administration relieves your IT department.
If you need a user license, you will find the solution here.
Buy Microsoft Remote Desktop Services RDS Cal
The Microsoft Windows Remote Desktop Services (RDS) are the successor of the old Terminal Server CALs. RDS is a centralized desktop and application platform that gives you multiple options for delivering and managing desktops and connecting remote workers with session virtualization and Virtual Desktop Infrastructure (VDI) technologies. This allows you to increase flexibility and data security in the enterprise with a centralized desktop solution, while freeing up your IT department to manage desktops and applications.
Buy a Device CAL or User CAL for Windows RDS Server?
If you want to buy a CAL for your Windows RDS Server, you have the choice between the Device-CAL and the User-CAL. As the name suggests, the Device-CAL is assigned to a device, while the User-CAL is a personal license. The Device-CAL is advantageous for companies whose employees only work from one workstation or with one PC or even share a PC with several employees. The User-CAL, on the other hand, is suitable for employees who work from different locations or with different devices and who need to be connected to the network with each device.
Our service staff will be happy to answer any questions you may have about the Microsoft Remote Desktop Services 2012 R2 Device-CAL. Simply get in touch with us - by phone or via our contact form.
Bewertungen lesen, schreiben und diskutieren...
mehr
Customer evaluation for "MICROSOFT REMOTE DESKTOP SERVICES 2012 R2 DEVICE CAL"
Write an evaluation
Evaluations will be activated after verification.