Cookie-Einstellungen
Diese Website benutzt Cookies, die für den technischen Betrieb der Website erforderlich sind und stets gesetzt werden. Andere Cookies, die den Komfort bei Benutzung dieser Website erhöhen, der Direktwerbung dienen oder die Interaktion mit anderen Websites und sozialen Netzwerken vereinfachen sollen, werden nur mit Ihrer Zustimmung gesetzt.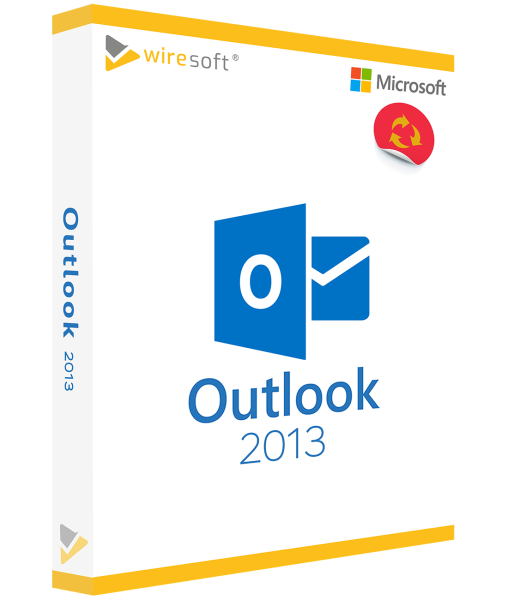 MICROSOFT OUTLOOK 2013

Prices incl. HST
Available as instant download
---
Are you a business customer or do you have legal questions?
I am here for you.
---
Kadir Aydin
Microsoft Licensing Professional (MLP)
Order number:

SW10038

Manufacturer No:

543-06057

Benefits

- Fast delivery
- Authorised original product
- Shipment within 24 hours
- Chat, e-mail and telephone support

Microsoft Outlook 2013 - the proven Office for comprehensive communication in the office and...
mehr
Product information "MICROSOFT OUTLOOK 2013"
Microsoft Outlook 2013 - the proven Office for comprehensive communication in the office and everyday life - as a stand-alone program
The daily administration of e-mails, private and business contacts, as well as the organization of important appointments and tasks - with Outlook 2013, the proven Microsoft Office, all these tasks, which are typical areas of modern business life, can be efficiently managed.
The intuitive and particularly user-friendly desktop view of Outlook 2013 offers all the prerequisites for a productive work experience, which is supplemented by a multitude of practical features and optimally supports professionals and inexperienced users alike in completing all tasks quickly and easily. For example, virtual folders can be set up to search for specific content, not just to filter e-mail traffic.
In contrast to the previous version,Outlook 2013 offers a much clearer user interface. Especially noticeable: The navigation bar for e-mails, contacts and calendars has been moved to the bottom of the window, leaving more space for other content. Nevertheless, all typical functions for handling e-mail traffic as well as tasks, contacts and calendar entries are still directly available there.
Thanks to the optimization of the touch functions in Outlook 2013, the software can now also be used conveniently on various end devices such as tablets and smartphones.
Outlook 2013 is regularly a fixed component of the MS Office and is therefore not available individually (or only as a subscription). Due to the Wiresoft offer to purchase Outlook 2013 as a single program, also users who do not have an Office 2013 version installed have the possibility to use this communication software on their PC.
The version Outlook 2013 offers the advantage that this program also runs under older Microsoft operating systems from Windows 7 on. This is a great advantage, especially for those users who do not have the current operating system or want to switch to it.
In the Wiresoft online shop you will find the 2013 version of MS Outlook as well as the latest and other versions of the software at a reasonable price for purchase as single user license as well as the other Office. An overview of the most important functions and features in Outlook 2013 can be found below.
Introduction to the most important functions in Outlook 2013
The modern day-to-day business routine includes a multitude of tasks which together make up comprehensive, successful communication with business partners: This includes not only sending and archiving e-mails, but also organizing and coordinating tasks, projects and contacts. Outlook 2013 bundles all these functions, each of which is required for this purpose.
The access bar is the command center of the Outlook interface, it is located at the bottom edge. Here users can switch between all the main features of Outlook with a single click: from e-mails to calendar, people or tasks. The access bar is complemented by the standard tabs, which offer a suitable selection of tools and options to perform the task, depending on the task area. The order and selection as well as the number of buttons (icons) of the access bar can be adapted and thus individualized as desired.
The message list also contains a number of commands for frequently used actions: With just one click, messages can be marked as important, read, unread or deleted.
Furthermore, the following functions and tools, for example, make it easier to use Outlook 2013:
E-mail messages can be provided with a digital signature, which then automatically appears at the end of each e-mail. Many options are available for this purpose: in addition to conventional text with the sender's address and a portrait of the sender, the sender's Electronic Business Card, a company logo or even an image of the handwritten signature can be displayed.
Reminders are displayed as pop-up windows so that an important appointment is never overlooked. Not only calendar entries but also contacts and e-mail messages can be set up in Outlook as reminders.
The management of tasks or to-do lists in Outlook 2013 makes it possible to combine different lists, display them as reminders and track their status.
Website mailboxes allow centralized management of e-mails and projects: By connecting Outlook, Exchange and SharePoint, all members of a team get access to calendar, tasks and project folders, which can thus manage from anywhere.
Searching for specific entries such as contacts, tasks and other content is now very easy in Outlook 2013 by setting up a virtual search folder: When a search is started, all e-mails or items are searched according to a specific criterion and the filtered search results are then displayed collectively in this virtual folder. For example, it is now also possible to search only for all unread e-mails in all folders of an Outlook mailbox.
The following intelligent features also make many frequently occurring tasks easier through clear displays and automatic functions:
Faster overview of e-mail traffic: The inbox can be set up so that the first three lines of text of an incoming e-mail are displayed instead of only the first few words. As a result, recipients do not have to open every e-mail to find out about its contents, but are already given a brief insight.
Replying to an e-mail is even faster with an embedded comment. With just one click, the answer can be entered directly in the reading area. Via Lync it is also possible to chat with the sender immediately in real time.
In the hectic pace of everyday office life, it quickly happens that you want to send the recipient a PDF or another attachment - which is the actual reason for the message, but you forget to integrate it into the e-mail. With a pop-up warning, Outlook reminds you if such an attachment is mentioned in the text, but inadvertently not attached.
The function "People Card" (also: "Persons") already integrated in the Windows Phone is now also available in Outlook 2013. It automatically collects all the elements associated with a particular contact, such as e-mail address and telephone numbers, but also information about the company concerned and messages in social networks such as Facebook and Twitter, and compiles them in a clear and concise manner. The People Card can be used in Outlook to coordinate appointments, send e-mails or call a person directly via it.
The calendar view now also contains a local weather forecast, if weather conditions play a role when planning certain appointments, e.g. for outdoo events.
Outlook 2013 already includes support for Exchange ActiveSync, so a special connector add-in is no longer needed to connect to outlook.com (hotmail.com). It's also possible to synchronize content in Outlook on the desktop with that in outlook.com.
The new MeetingNotes feature also offers the ability to instantly create a note in OneNote from an appointment in the Outlook calendar. This note will automatically include the date, time, and number of participants - exactly as specified in the Outlook calendar entry.
When using Outlook for iOS or Outlook for Android, drafts of e-mails are also automatically synchronized with the mobile device, so that these messages are also available on the road.
System requirements for Microsoft Outlook 2013
The Office Outlook 2013 is offered by Microsoft for download in 32-bit and 64-bit versions. The 32-bit version of Outlook 2013 is offered by the Windows- Windows 7, Windows 8 and Windows 8.1 operating systems are supported.
The 64-bit version of Outlook 2013 is supported by Windows Server 2008 R2 and Windows Server 2012 in addition to the above operating systems.
Depending on the bit version, additional hardware requirements for memory and disk space apply. The following minimum requirements must be observed during installation:
Operating systems: at least Windows 7, Windows 8; Windows Server 2008 R2 or Windows Server 2012
Processor: 1 GHz or faster - x86 or x64-bit processor
Memory (RAM): at least 1 GB (32-bit); 2 GB (64-bit)
Hard disk: at least 3 GB
Screen: Minimum resolution 1,024 x 576 pixels
DirectX10 capable graphics card
Multi-touch functionality is optimized for Windows 8
Buy Microsoft Outlook 2013 from Wiresoft cheaply individually
MS Outlook 2013 is a typical component of the usual MS Office 2013 and therefore not available in the usual trade individually, but only together with an Office or as a paid subscription version. In the Wiresoft online shop, Outlook 2013 program can also be purchased separately - as a purchased version, without any obligation to subscribe to a subscription with frequent software updates; when purchasing via Wiresoft, only the one-time costs are incurred. Here you purchase the usual full version of the program, with the same range of functions as the software component included in Office 2013, the only difference being that this Outlook 2013 is a single license that is used exclusively by yourself.
Secure software purchase with Wiresoft: The purchase of Outlook 2013 or any other Office is cheap, convenient and secure with Wiresoft: Because this Outlook 2013 software is a single user license that was part of a larger volume license, which is usually only purchased and used by larger companies. Every company acquires the right to sell surplus software licenses when purchasing - e.g. to Wiresoft. It does not matter whether these are or were not used, or whether they have been replaced by a newer program version or are no longer supported by a general adjustment of the hardware or an update of the operating system. Through the sale, the volume license was dissolved and converted into single licenses - these are then called used software or used software. However, the split has no effect on their functionality, and software is not subject to wear and tear. Wiresoft therefore only sells full program versions of Outlook 2013 and other versions or Microsoft programs that are identical to the original versions available from Microsoft and also come from legal sources.
When buying Outlook 2013 as used software with Wiresoft, you therefore do not take any legal risk, since the trade with used software is expressly permitted by law.
This Outlook 2013 software can be installed by you immediately after completion of the purchase process and the download to your PC and can be activated with the volume license key - Multi-Activation-Key (MAK) - supplied and used immediately without any time or other restrictions.
The software purchase of Microsoft programs via Wiresoft is an economically advantageous solution for our customers to be able to use these usually expensive or individually normally not available programs themselves. Not only freelancers and private users, but also small and medium sized businesses benefit from our low priced software offer, because they not only get all the advantages that Outlook 2013 has to offer, but also save money when buying it!
The Wiresoft software shop offers both current and older versions of Outlook 2013 as well as many other Office as a purchase version, in addition to other Microsoft programs. If you have any questions about MS Outlook 2013 or any other Microsoft program, simply use our competent advice by e-mail, phone or chat.
Bewertungen lesen, schreiben und diskutieren...
mehr
Customer evaluation for "MICROSOFT OUTLOOK 2013"
Write an evaluation
Evaluations will be activated after verification.