Cookie-Einstellungen
Diese Website benutzt Cookies, die für den technischen Betrieb der Website erforderlich sind und stets gesetzt werden. Andere Cookies, die den Komfort bei Benutzung dieser Website erhöhen, der Direktwerbung dienen oder die Interaktion mit anderen Websites und sozialen Netzwerken vereinfachen sollen, werden nur mit Ihrer Zustimmung gesetzt.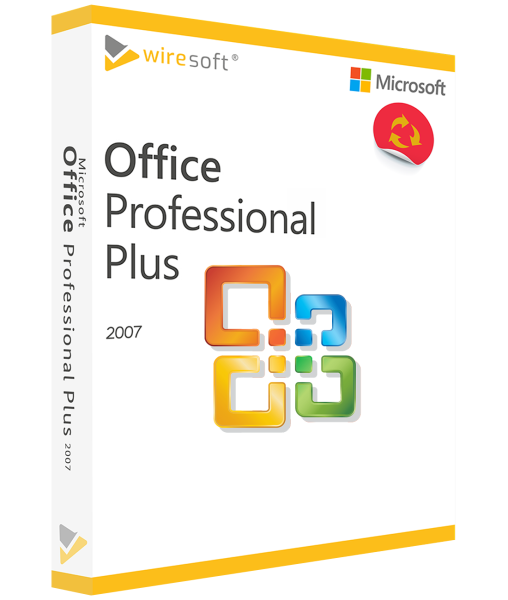 MICROSOFT OFFICE 2007 PROFESSIONAL PLUS

Prices incl. HST
Available as instant download
---
Are you a business customer or do you have legal questions?
I am here for you.
---
Kadir Aydin
Microsoft Licensing Professional (MLP)
Order number:

SW10002

Manufacturer No:

79P-00123

Benefits

- Fast delivery
- Authorised original product
- Shipment within 24 hours
- Chat, e-mail and telephone support

Microsoft Office 2007 Professional Plus - all applications for business professionals in one...
mehr
Product information "MICROSOFT OFFICE 2007 PROFESSIONAL PLUS"
Microsoft Office 2007 Professional Plus - all applications for business professionals in one package as a single license
MS Office 2007 - and with it also the edition 2007 Professional Plus - represents a milestone in the history of Office packages: Compared to older versions and predecessors, it offers a plus in functionality and efficiency that makes it, with the included programs, an indispensable tool for companies, but also makes it easier for private users and self-employed persons to efficiently complete all daily office and administrative tasks: with Word 2007 for creating texts in a wide variety of formats, Excel 2007 for complex calculations, Outlook 2007 for comprehensive communication and task planning, and PowerPoint 2007 for designing vivid reports and presentations. Particularly the Office-Edition 2007 Professional Plus offers in addition a large plus at further programs: with Publisher 2007 for various possibilities with publications of print media, in addition, for on-line, with Access 2007 for a multiplicity of data base applications and finally also with InfoPath 2007, in order to provide forms for the practical collection and evaluation of data. Buyers of the Professional Plus edition profit thereby from a matured Office-Version, which makes a professional work and the comprehensive communication possible.
This is new in MS Office 2007 Professional Plus
The Professional Plus Edition offers the following new functions in the various programs, among others:
New Ribbon: The updated user interface allows faster and intuitive navigation.
Customizable settings with themes and layouts increase productivity.
New Live Preview displays templates and designs based on real-time data in the document window.
Support for the XML file format provides greater security, reduces document size, and enables faster loading times.
Outlook now offers a function for searching within e-mails as well as subscribing to RSS feeds and a spam filter.
Access offers ready-made Standard formats that can be edited.
Automated formulas in Excel speed up calculations.
The new Ribbon Interface
All these classical Microsoft applications contained in Professional Plus 2007 present themselves thereby in a completely again designed appearance: The past menu structure of the Office- predecessors is replaced in the individual Office 2007 programs by a clear multi-function bar - also Ribbon called. The Ribbon offers now for each Office-Program in individual groups of summarized commands, which are supplemented further by list and dialog boxes. These are then generally available as tabs, which are further subdivided by context. In this way, all the commands or functions required to carry out a particular action are grouped together and are immediately available in one clear place, for example, to format a Word document according to your own specifications or to insert and edit a graphic in a document.
Furthermore, the Ribbon also offers the possibility to make user-defined settings in the respective menus and thus adapt them to one's own needs, so that frequently used functions are directly available, which also represents a plus in work efficiency.
The new Live Preview
In addition to this there is in Office 2007 Professional Plus as well as the other editions the
so-called Live Preview: Depending on the open program, this feature displays templates and designs, but also format functions in a document window in a real-time preview.
The new file format OpenXML
With OpenXML, the Office 2007 version also provides a new XML-based Standard file format in the Professional Plus edition, which offers a whole range of advantages that are important in the modern business world: For example, XML support reduces the size of files, which on the one hand saves space on the PC and on the other hand significantly reduces the loading time of documents on web pages.
On web pages, XML support ensures that the size of documents is effectively reduced, resulting in pleasingly shorter loading times. XML files also offer better protection against data loss with Data Loss Prevention - DLP.
The new compatibility mode
In Microsoft Office 2007, documents created with older versions of the Office programs (Office 97) can be opened, edited and saved again in the so-called compatibility mode, making them available again for the older Office versions for Windows and Mac OS and also allowing them to be edited. This is achieved, among other things, by the fact that all functions that do not exist in the older program version are not available here, so that there are no compatibility problems.
The Microsoft Office Professional Plus 2007 Edition at Wiresoft
The purchase of a 2007 Professional Plus edition of MS Office has for many buyers on the one hand the big advantage that this is still supported by older Microsoft operating systems from version Windows XP SP3, which is still used on older hardware, so that this broad compatibility is quite a purchase-deciding factor. On the other hand, this edition is only available as a volume license in conventional stores. At Wiresoft, however, customers can also buy Professional Plus 2007 as a single license in the form of used software.
In Wiresoft's software shop you can buy Office 2007 Professional Plus as well as other editions of this version and newer Office packages. An introduction of the individual programs contained in Professional Plus 2007 including their novelties of Office 2007 Professional Plus offers the following overview.
MS Office 2007 Professional Plus - all business tools united in one suite
Beside the proven Office- classics Word, Excel, PowerPoint and Outlook the edition Professional Plus 2007 contains not only the DTP program Microsoft Publisher 2007, but also the data base application Access 2007 and the form creation tool InfoPath 2007. Straight these additionally contained applications are quasi indispensable for commercial and/or business ranges of application.
Overview of all programs included in the MS Office Edition 2007 Professional Plus:
Word 2007
Excel 2007
PowerPoint 2007
Outlook 2007
Publisher 2007
Access 2007
InfoPath 2007
Word 2007
Microsoft Word 2007 offers many improvements as well as some new functions and features: Many standard templates are available to immediately create text documents for business as well as private purposes, which are professionally pre-formatted and can also be further customized. New effects such as transparency and 3D are also available to make texts more appealing. Macros can also be created in Word to handle certain text editing steps more efficiently. A big plus is also the central management of versions or changes as well as comments.
Excel 2007
The powerful spreadsheet program now offers extended functions for creating formulas and visualizing data; this includes pivot tables and the ability to create professional, descriptive diagrams in just a few steps. Connectivity to Microsoft SharePoint Services keeps confidential data protected when communicating with others.
PowerPoint 2007
With the slide master, PowerPoint 2007 provides an effective tool for managing all templates to ensure a consistent appearance of all presentations created with it and also to save time. Many new text and typographic effects as well as formatting tools are available for the design, most of which can be applied immediately with just one click.
The integrated document inspector reliably removes comments, hidden text or personal information before publishing or sharing a presentation, and the digital signature also ensures that the content cannot be changed. Thanks to the newly available Office Open XML format .pptx, presentations created using this format can also be published as HTML Web pages.
Outlook 2007
The proven communication software offers effective functions for the administration of the daily E-Mail traffic, among other things with the Sofortsuche, in order to search E-Mails including the attachments for certain terms or keywords, as well as in order to release data and information purposefully for individual users and purposes as well as a Spam filter. Composing messages, including formatting, has also become more intuitive and therefore easier. The integrated task bar with calendar offers many options for coordinating appointments and projects. Contents can be colour-coded and marked according to individual persons or importance, for example.
InfoPath 2007
InfoPath 2007 is used to create, manage and exchange forms for the collection of various data. Because they are based on XML, they can also be made available on the Web via Office SharePoint Server 2007 with the integrated "Forms Services" and thus be filled out without the InfoPath software.
Scenarios using InfoPath 2007 include inventory tracking, project status reports, expense reports, and insurance policies. InfoPath 2007 is also designed to integrate with Outlook 2007, allowing users to open and edit InfoPath forms from Outlook 2007.
Publisher 2007
This powerful DTP program is designed to instantly and easily create high-quality publications for a variety of purposes, from flyers and personalized form letters to large brochures. The templates included in Publisher 2007 cover not only print products, but also formats for sending e-mail newsletters and designing Web pages. Thanks to the comprehensive compatibility with the other Office programs, texts, images and tables etc. from Word, Excel, Access, Outlook and PowerPoint can also be used.
Access 2007
The proven database program is used to centrally collect and structure data from various sources in order to make it available internally within the company or externally for customers for further processing. Thanks to the various format templates, the collected information can be better analysed and used and also presented in a comprehensible form as meaningful reports.
Via the Windows SharePoint Services, users of Access 2007 have the possibility to edit the captured data at any time, to restore deleted information and to set individual permissions for access.
System requirements for MS Office 2007 Professional Plus
The Office Edition 2007 Professional Plus is compatible with many older Windows operating systems, but is no longer supported by Windows 10. However, the new ribbon interface introduced with the Office 2007 version requires more disk space compared to previous versions. In general, the following minimum requirements apply for the proper execution of all applications:
Operating systems: from Microsoft Windows XP Service Pack 3 to Windows 8.1 or Microsoft Windows Server 2003 or higher
Processor: min. 500 MHz - to be able to use all Outlook functions, 1 GHz is recommended
Memory: min. 256 MB RAM - 512 MB recommended for proper use of Outlook services
Hard disk space: min. 2 GB
Screen resolution: min. 1,024 x 768
Buy the MS Office 2007 Professional Plus at Wiresoft as a single license at a low price
The 2007 Professional Plus Edition from Microsoft belongs to the Office-Editions, which are offered in the conventional trade only as volume license for enterprises and are not available there therefore as single license. In the Wiresoft Software-Shop you can buy the Office 2007 Professional Plus Edition as a single user license without any subscription obligations; when buying in the Wiresoft Shop you only have to pay the one-time costs for the full version of this Office-Edition, which offers the identical range of functionalities as the corresponding volume license.
The underlying volume license usually comes from a larger company and was purchased by Wiresoft. When purchasing volume licenses, the company also has the right to resell surplus software licenses or the entire volume license - regardless of whether individual licenses contained therein or the entire volume license were used or not. Through the sale, the volume license is dissolved and converted into individual licenses, which are then referred to as used software. This splitting or designation has no effect on the general functionality of the offered Office 2007 Professional Plus Edition or the contained programs. Wiresoft then offers these single-user licenses at a particularly low price as a purchase version.
Your software purchase at Wiresoft is not only inexpensive, but also secure: You can install the Office 2007 Professional Plus software on your PC after successfully completing the purchase process and the immediate download and activate it with the corresponding volume license key supplied, which is only valid and functional for your personal single license. Because Wiresoft sells only Office 2007 Professional Plus software or other Office editions or versions that are identical to original Microsoft products; companies from which these former volume licenses originate are located exclusively in Europe, so that the purchase of this Office 2007 Professional Plus edition as used software does not involve any legal risk, because the trade in used software is permitted by law, which has also been confirmed several times by court decisions.
The purchase of used software in the Wiresoft Shop is a favorable possibility for you as a customer to use otherwise unavailable Office-Otherwise unavailable editions such as Professional Plus 2007. Our clientele therefore includes SMEs, but also self-employed and private individuals who benefit from our inexpensive range of Microsoft programs.
In the Wiresoft Software-Shop you will find the MS Office-Edition 2007 Professional Plus as well as other editions of this version and newer editions and other Microsoft programs as low-priced purchase version for download. For questions about Professional Plus or any other Microsoft Office software, simply use our competent advice by e-mail, telephone or chat.
Bewertungen lesen, schreiben und diskutieren...
mehr
Customer evaluation for "MICROSOFT OFFICE 2007 PROFESSIONAL PLUS"
Write an evaluation
Evaluations will be activated after verification.